Microsoft equipped 1 Millionth Ford with SYNC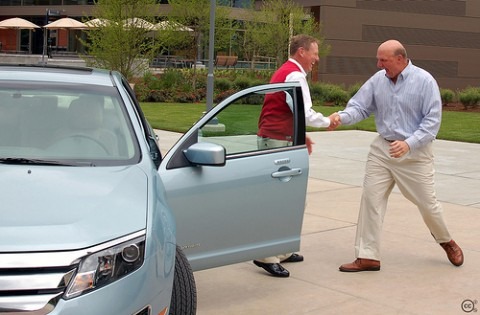 Steve Ballmer reported today that Microsoft SYNC is now in 1 Million Ford company vehicles, including Ford Fusions, Focuses, and even Lincoln MKS luxury sedans. The Bluetooth integration features that SYNC provides gives drivers wireless and even voice control over their phones and mp3 players. I personally enjoyed using SYNC during my test drive in California and Microsoft has a winning product here. Obviously since they've just achieved 1 million units.
SYNC debuted in 2007 and has continually offered customers free software upgrades, most recently a Car Health report and 911 Assist. More than 80 percent of the vehicles Ford sells in North America are equipped with SYNC and vehicles with SYNC sell twice as fast as units without.
Steve even got himself a brand new 2010 Ford Fusion, which of course will come equipped with SYNC. The next-generation SYNC with Traffic, Directions and Information allows for hands-free access to personalized traffic reports, precise driving directions and real-time news, sports and movie information.