Microsoft Edge is finally coming to iOS and Android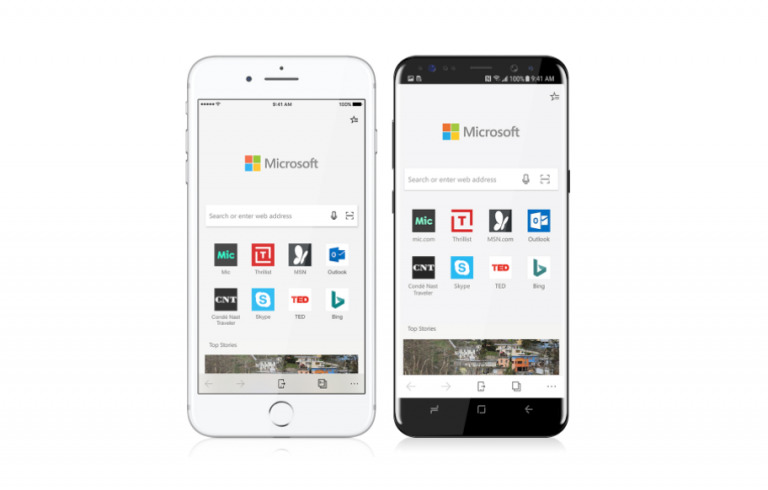 For all the problems Windows 10 Mobile may have, one of the advantages it offers over iOS and Android was deeper compatibility with Windows on PC. With Windows 10 Mobile left largely unsupported by app developers, Windows PC users who have been forced to iOS and Android have been missing some of that extra compatibility. That'll be changing soon, at least for folks who use Microsoft Edge as their main browser within Windows 10.
Microsoft has revealed that Edge is making its way to iOS today and Android soon. For all intents and purposes, these are beta tests for each platform's respective app, with Microsoft launching Edge in preview on iOS today. Though the Android version isn't here just yet, Microsoft says it too will be entering preview soon.
Seeing as this is a preview build of Edge for mobile devices, there are some features that it's launching without. In a Windows blog post today, Microsoft said that features like Favorites, Reading List, Reading View, and your New Tab Page will begin syncing across PC and mobile, so part of the "Continue on PC" functionality is already in place.
It sounds like "Continue on PC" will be fully implemented once the Fall Creators Update for Windows 10 arrives on October 17. It's then (or at least at some point in the not-so-distant future) that we can expect to see features like roaming passwords and support for tablets. For now, though, perhaps the coolest part of the Edge preview is the ability to send a page you're viewing on mobile to PC, which is accomplished by tapping the continue on PC button you see in the middle of the navigation bar in-app.
Microsoft Edge is available on iOS through Apple TestFlight, and beginning today, Android users can sign up to test Edge on mobile when it launches in preview. It seems that you'll need to be a Windows Insider to test either, and if you are, you can sign up by checking out this page. We'll let you know when Microsoft Edge eventually makes its way to Android, so keep it here at SlashGear for more.