Microsoft Danger tweets tip Pink at MWC 2010?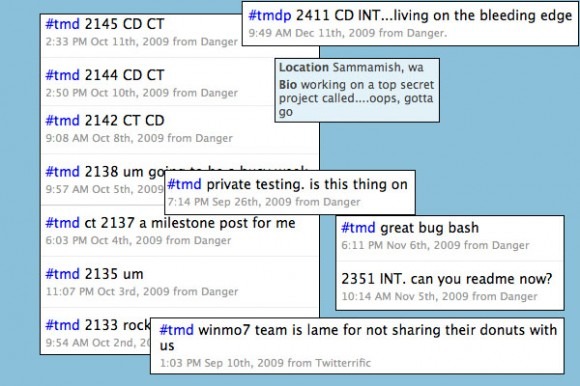 Whether you're a Windows Mobile lover or not, one thing most people can agree with is that Microsoft really need to pull their finger out if they don't want to see their smartphone business slide away.  We've already heard rumors that the company plans to bring Windows Mobile 6.6 to Mobile World Congress 2010, as well as talk of Windows Mobile 7 making its debut, but now there's speculation that in fact an altogether different device could appear.  Engadget have been sniffing out Twitter messages and compiling a list of those posted "from Danger".
While existing Sidekick phones – made by Danger, a company Microsoft bought and took over in recent years – have Twitter access, tweets from those handsets are listed as "from Sidekick".  The tweets have come from numerous accounts, are often tagged #tmd or #tmdp, and at least one suggests that this is a separate project from the Windows Mobile 7 team.
One explanation could be that Microsoft's much-rumored Pink project is finally culminating in some sort of hardware announcement.  Last we heard, a disgruntled insider was predicting mismanagement would see Pink scuppered, but that predated these Twitter messages.