Microsoft creates massive Windows 8 showroom in center of Times Square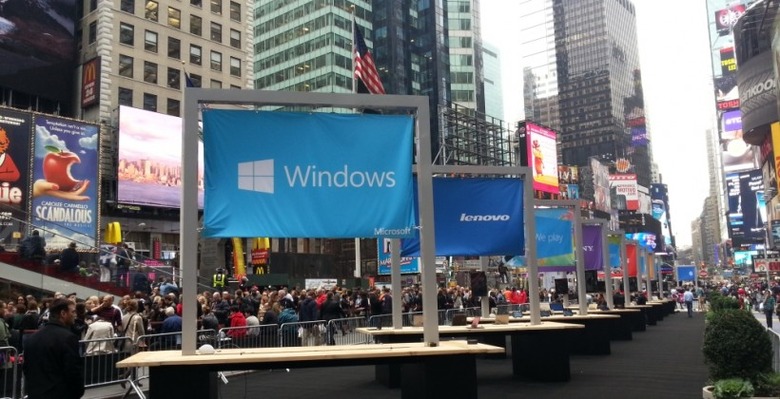 In addition to the massive takeover of a fabulous 39 digital boards with one massive Windows 8 Start Screen later tonight, Microsoft has made it's play for the very center of Times Square with a hands-on experience for the public. Each of Microsoft's major manufacturing partners was invited to bring their own wares to what's essentially the most highly-visible showroom floor in the world, with anyone and everyone invited in to take a peek at the wares starting here at the launch of Windows 8. This presentation adds to the already unique display the company (and companies, as it were) has made for the press and the public in an effort to create a winning atmosphere for the birth of the newly released operating system.
You'll see many of the devices on tables here that were given final details over the past few weeks. These devices come from Acer, ASUS, HP, Dell, Toshiba, Samsung, Sony, and Lenovo, and can be found in run-downs galore throughout our Windows 8 portal. Microsoft is making an effort also to differentiate between the coverage and attention they give to their 3rd party partners and their own Surface tablets, giving them both their own space and a completely separate presentation at the main Windows 8 release event for the press.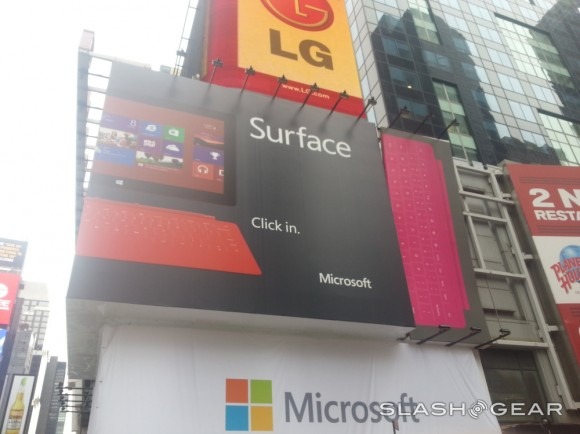 The actual launch of Windows 8 takes place on October 26th, with the switchover from the advertisements you see above and below on boards galore to Microsoft's own Start Screen, one by one, right as the operating system is available for the world to purchase at midnight. Of course global availability doesn't chime at the same moment around the planet, but in New York City, there is but one moment when Microsoft jumps head-first into the future.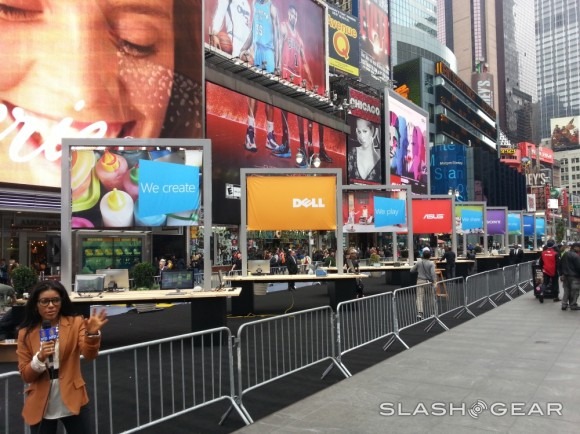 Also included in the Microsoft bid for attention in New York City is an art-like presentation on Pier 57, it being a city of Windows 8 products in a color-splashed white city, each of them able to be viewed and in some cases available for hands-on action as well. This public display is advertised throughout the city and on the web for the public to head over and see for several weeks.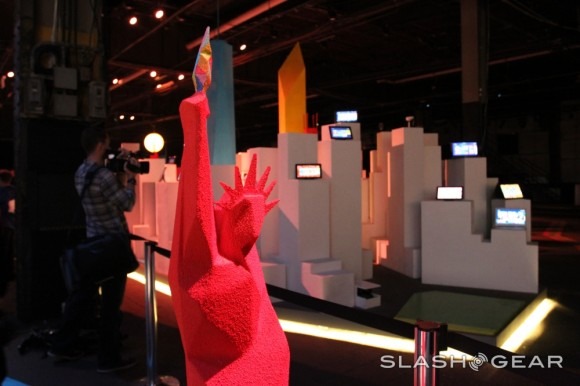 If these presentations are any indication, Microsoft is not about to let this release go unnoticed. With their very future in the balance with this very major release of their next-generation operating system, they're not going to risk that the entire universe doesn't at least know that Windows 8 exists – and with hands-on experiences here and there and everywhere, they're going to make sure you can get every chance possible to touch it too – then buy it, of course.