Microsoft Courier Tablet Breaks Cover: Dual-Screen Multitouch [Video]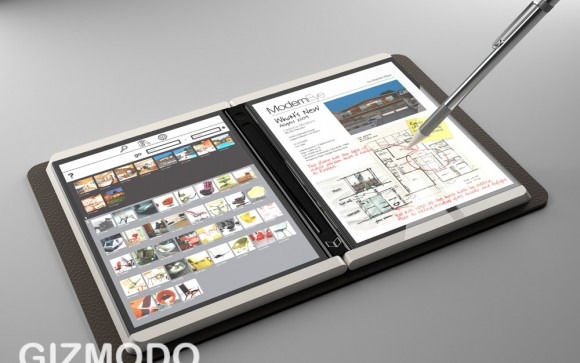 Having heard the rumors earlier this week about Microsoft's supposed tablet project, imagine our surprise to see this, the Microsoft Courier.  Gizmodo grabbed the details on the dual-touchscreen tablet, which folds along its center spine and can be used with either a pen stylus for handwriting recognition or with fingertips complete with multitouch gestures.  Each panel is believed to be roughly 7-inches, and the whole project is apparently in "late prototype" stage of development.
Video demo after the cut
The project has been buried deep within Microsoft until now, and generally unknown apart from to those actually working on it; as tipped earlier this week, J. Allard – Microsoft's head of Entertainment & Devices technology – is leading the team.  They're also said to be working with outside agencies to work on the UI and final design.
Other tidbits include a 3-megapixel camera with flash on the back cover, status LEDs that run down the edge of one of the displays, a central "home" button at the bottom of the hinger and possibly inductive charging as with the Palm Pre's Touchstone.  More UI detail in the video below, but well done Microsoft, you've certainly perked our interest.
Update: It's been pointed out that the Courier looks a whole lot like it owes some heritage to Ken Hinckley's Codex prototype, which paired two OQO UMPCs in a similar way.