Microsoft Claims Surface Competitors Are Trying To Catch Up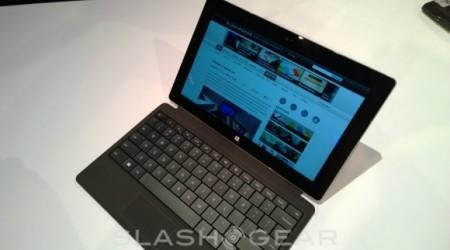 In light of the new Surface 2, Microsoft has made some interesting claims regarding its tablet competition to the folks over at Tech Radar, where the company seems to take a passive swipe at Apple while saying that others are playing catch-up. Microsoft isn't the only company to be pushing out its big-name tablet offerings in recent times, with Apple having just recently taken the wraps off its new iPad Air.
Microsoft's Surface UK head Ally Wickham and Windows UK Consumer head Rob Epstein both spoke to Tech Radar briefly about tablets in general, with its new Surface slates being the focus. When the question was posed regarding Microsoft's thoughts on the iPad Air, Wickham responded: "I think a lot of tablet manufacturers are starting to catch on that people want to do more with their tablets."
She went on to state that tablet makers are coming to see that the buying public wants to be able to accomplish more tasks on tablets, and that as such they need to put productivity software on the slates — "[Microsoft] recognized that from the beginning," she said. Such is no doubt a swipe at Apple making iWork free with iOS devices in recent weeks.
Rob Epstein then commented on the productivity aspect of tablets, saying: "As people start going through replacement cycles, what we're starting to realize is that more and more people are going 'Why do I have to buy another laptop and a tablet' and certainly the high end tablets that we would compare ourselves to are not cheap."
SOURCE: TechRadar