iOS devices now coming with iWork suite free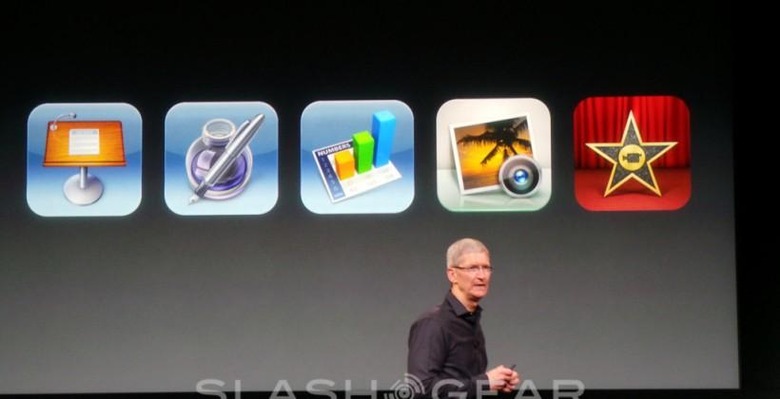 Live on stage Apple is set to announce their new iPhone 5S as well as launch iOS 7 to the world. While we're still waiting for the exciting news, Tim Cook is quickly talking about iWork. Which just so happens to be one of the most popular and best-selling mobile productivity apps to date. Focusing more and more on mobile, it's about to get a lot better, and free.
Tim is talking up iWork today, mentioning how it's the best productivity app for any mobile device. It's been completely designed to work excellent on mobile devices, and you can tell the moment you open it. iOS devices "are incredible for creating content," says Tim Cook. Which we'd agree, and with more than 700 million iOS devices to date, that's a lot of content.
We have some excellent news to share this afternoon. Tim has just confirmed that the entire iWork suite of apps will now be absolutely free on iOS devices. When you first boot and use a new iOS device, you'll be greeted by a screen to download the iWork suite, iPhoto, and iMovie. Anything from iPhone, iPad, to the 5th gen iPod Touch all get it free.
This means whether you're enjoying an original iPhone 5, or the brand new iPhone 5S or colorful C, you'll get this entire suite completely free. Say goodbye to all those other productivity apps on the AppStore. Apple's now turning to the iPhone, so stick around for all our coverage.