Microsoft buys Perceptive Pixel for pen and multitouch expertise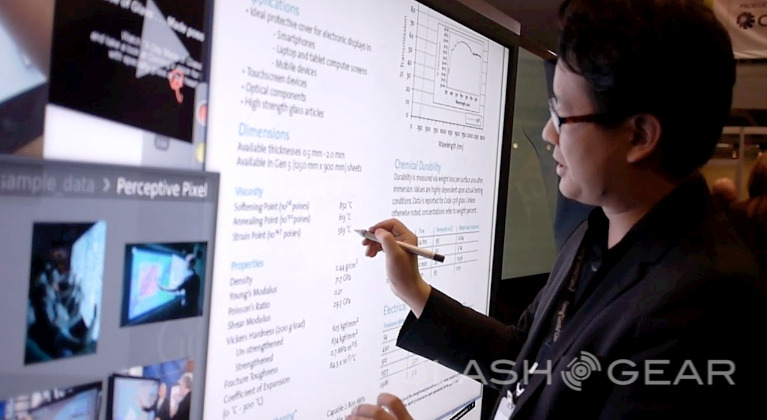 Microsoft has announced it is acquiring Perceptive Pixel, a touchscreen specialist that creates displays capable of simultaneously recognizing pen and finger input. Confirmed at Microsoft's Worldwide Partner Conference 2012 in Toronto today – where Microsoft also announced the Windows 8 release dates - the deal could see Perceptive Pixel's Active Stylus technology included in future versions of Microsoft Surface Windows tablets.
Active Stylus uses Perceptive Pixel's projected capacitive touchscreens, which can recognize not only points of contact but when the nib is hovering up to half an inch above the display. Windows software can take advantage of latitude/ longitude, distance, time/depth, x/y/z coordinates and other information about the pen tip, before it has even touched the panel.
"Work fluidly on screen with both the stylus and your hands without the need to toggle between input modes. Our innovative controller technology flawlessly differentiates styluses from fingers while tracking input from each stylus separately and eliminating false touches. You can easily annotate or draw on screen with one hand while repositioning on-screen objects with your other hand. And you can rest your wrist comfortably on the screen as you write or draw with the active stylus because our devices recognize and reject a palm or forearm touch input" Perceptive Pixel
Perceptive Pixel is also responsible for a number of larger multitouch screens, which have taken on Microsoft's original Surface multitouch table. Back at CES 2012 in January, the company demonstrated an 82-inch version, suitable for wall-mounting, which used Corning Gorilla Glass 2 and is just 6-inches deep overall.
Perceptive Pixel 82-inch display demo:
There are also more manageable 27- and 55-inch versions of the display, and Perceptive Pixel offers several software tools intended for use with its panels. Terms of the deal have not been announced.