Corning shows off 82" multi-touch display with Gorilla Glass 2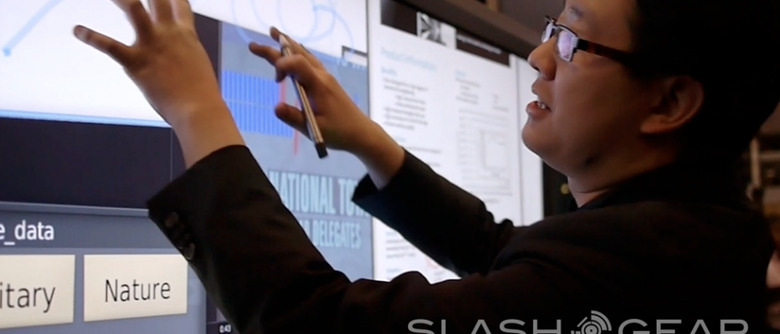 Today at CES we managed to run into an awesome 82" multi-touch display being ran by Corning. What we have on video below is actually a quick demonstration of the new 82" display showcasing its unlimited amounts of multi-touch points, stylus support, and more from the guys at Perceptive Pixel. What makes this display special is that it's the world's largest Gorilla Glass 2 display.
Perceptive pixels has been shipping these large-scale displays since mid-2011 but what makes this one special is the outer layer on the screen. This prototype device represents the largest touch display to feature Corning Gorilla Glass, adding Corning's thin, visually stunning and durable glass to the world's largest projected capacitive flat-panel display technology.
With Perceptive's class-leading technology and Corning's new Gorilla Glass 2 measuring just 2mm thick they are able to make these entire screens just 6 inches in depth. Adding the strengthened glass from Corning allows these panels to be used in a wide array of situations and horizontal positions. You can see right on video the demonstrator uses the stylus with force and near the end even punches the display to demonstrate the strength from the glass –something that will surely protect these expensive screens from impact damage.
For more information regarding Gorilla Glass 2 check out our timeline below for the details. In the future we can expect even more from both of these companies as things progress.