Microsoft bringing Visual Studio Android emulator to Mac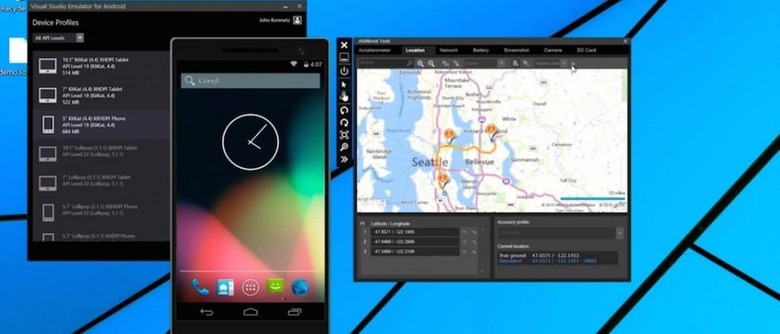 It just might be the ultimate convergence of the three major computing platforms of today: emulating the Android OS on a Mac via Microsoft software. Ok, it may not be a convergence, but it is about to become a reality. During the Microsoft Connect 2015 conference in New York today, the company announced that it was making its Visual Studio Code program open source for developers. An additional part of that news is that Mac users will soon be getting Visual Studio Emulator for Android.
Visual Studio Emulator for Android is a tool that allows Android developers to test and debug their apps from the desktop OS of their choosing. The software arrived on Windows last year, and is part of Microsoft's Visual Studio 2015 suite.
The full 2015 suite of Visual Studio was brought to Mac for the first time in April of this year. Microsoft said support for the Android emulator will be coming soon, but didn't give an exact timeframe. Mac users can sign-up to be notified when it's available from the Visual Studio website.
Microsoft has already made the open-source version of Visual Studio Code available on GitHub for developers. Meanwhile, the Visual Studio announcements from the Connect 2015 event also include the debut of Visual Studio Dev Essentials, which allows developers to start building apps for free, and updated cloud subscriptions for Visual Studio.
VIA 9to5Mac