Microsoft branding cull leaks plus Office 15 tablet UI tease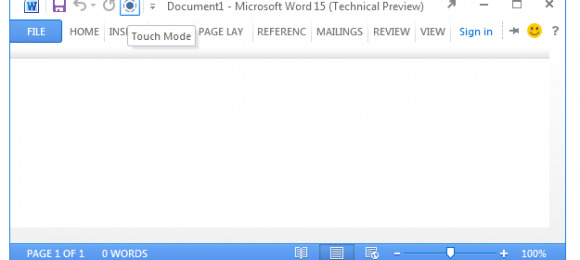 Microsoft is set to retire the Zune and Windows Live brands with
, it's reported, as well as offer a switchable tablet/desktop UI in the Office 15 apps for increased finger-friendliness. The so-called "Touch Mode" button has been spotted in the
 but is not yet functional, according to
's source, but which will presumably boost icon size among other tweaks for those using the software in Metro mode on tablets and touchscreen all-in-ones.
As for Microsoft's streamlined branding, it appears the company's pre-installed apps will be ditching the traditional Zune and Windows Live nomenclature in favor of more straightforward terms. For instance, Windows Live Mail will be renamed as simply Mail, according to 
's sources, while Windows Live Photo Gallery will be cropped down to simply Photos.
Microsoft's little-loved Zune music service, meanwhile, will also be retired. Microsoft's Xbox team has apparently been responsible for developing the Music and Video apps in Windows 7, with Xbox LIVE for Windows supposedly being the new branding for entertainment features in the OS.
Microsoft Account (Windows Live ID)
Mail (Windows Live Mail)
Calendar (Windows Live Calendar)
People (Windows Live Contacts)
Photos (Windows Live Photo Gallery)
Music (Zune Music Player)
Video (Zune Video Player)
The Zune-branded Windows Phone app is also expected to be axed, in favor of more baked-in support
in Windows 8 for the upcoming Apollo version
 of the smartphone platform. Zune Pass will remain, however, though could evolve into a more Spotify-like service, according to rumors.