Microsoft announces two more Xbox One S Gears of War 4 bundles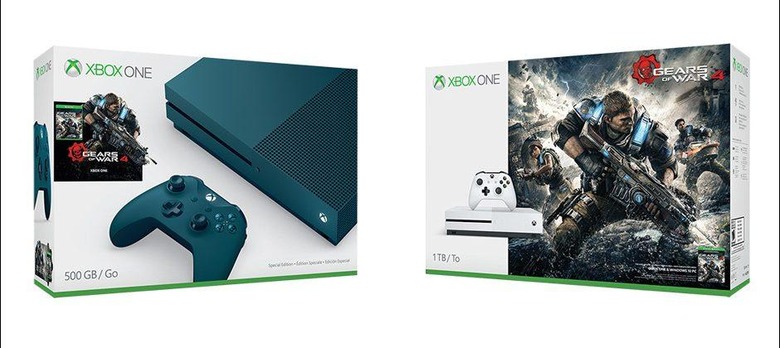 Gears of War 4 is the Xbox One's big exclusive title this holiday season, and Microsoft is doing all it can to make sure as many gamers pick up a copy as possible. To make things easy, the company has announced two new bundle options that pair GoW4 with the new Xbox One S, in addition to the previous limited edition bundle that features a 2TB console in crimson red.
The first is simply the Xbox One S Gears of War 4 bundle, which features the console and controller in standard white, paired with a copy of the game for $350. The console will come with a 1TB hard drive, and the game will be a digital download, unless purchased from GameStop, in which case it will be a physical copy.

The physical vs digital aspect is important to note, as only the digital version allows the game to be played on Windows 10 PCs via the Xbox Play Anywhere feature.
The second packages is called the Xbox One S Gears of War 4 Special Edition bundle, which, to be clear, is not the same as the Limited Edition set with the 2TB console in red. This one features a Xbox One S in a unique "deep blue" color, complete with a matching controller. The hard drive in this model is only 500GB, and the bundle will be exclusive to the US and Australia, where it will sell for $300 at Microsoft Stores, GameStop, and EB Games.

In this instance, the US bundles will include the physical disc, while Australia gets the digital download.
Lastly, Microsoft says that for a limited time, customers that buy either of the new bundles will also get backwards compatible digital downloads of the entire Xbox 360 Gears of War collection. GoW4 and the while console bundle will be released on October 11th, whereas the deep blue bundle won't be available until November 1st, but is available for pre-order now.
SOURCE Xbox Wire