Microsoft and Yahoo! sign revenue share deal on search ads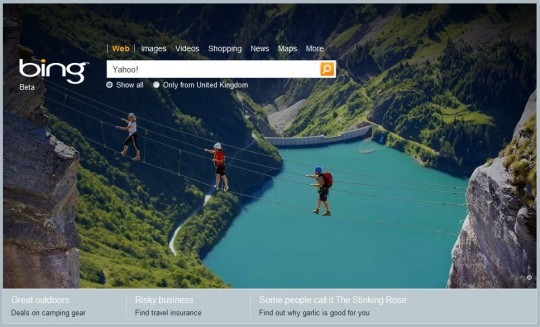 Microsoft and Yahoo! have finally reached an agreement on an online search and advertising partnership, according to an internal source.  While the deal is yet to be publicly confirmed by either company – something expected within 24hrs – it's believed to involve Microsoft's Bing search engine powering Yahoo! searches, while the latter company will manage advertising sales using Microsoft technology.  The news is being positioned as the two firms' strike back against Google, who have pretty much cornered the market in both online search and advertising.
Together, Microsoft and Yahoo!'s search platforms only account for 28-percent of all US internet queries, compared to Google's 65-percent.  In this new agreement, Microsoft will pay no upfront fee to their new partners; instead they will rely on revenue sharing from continued operations.  Last year Yahoo! rebuffed a $47.5bn offer from Microsoft, while a Yahoo!-Google search ad deal was scuppered by regulators. 
Those same regulators will likely be taking a great deal of interest in this new Microsoft/Yahoo! partnership.  Not only will antitrust be an issue – despite their relatively low combined share, the two companies are the second and third largest search providers – but privacy, with details of shared data between search and advertising being put under scrutiny.