Microsoft acquiring Yammer for $1.2 billion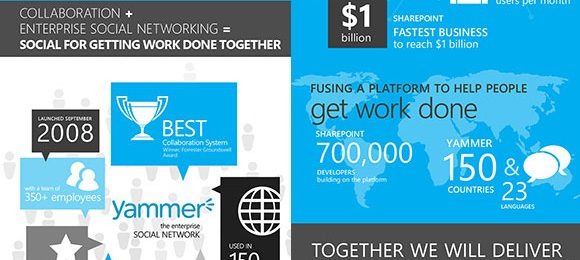 This week the rumors have been proven true as Microsoft announces that they'll be purchasing Yammer for $1.2 billion in cash. This deal will have the enterprise social network business Yammer joining the Microsoft Office Division lead by President Kurt DelBene, but will have the Yammer team continuing to report to their current CEO David Sacks. This deal was previously tipped for release at the event that ended up turning into the Microsoft Surface tablet reveal.
This acquisition has the 5 million corporate users of Yammer working with Microsoft to push forward. Yammer was launched in 2008 and currently has 85 percent of the employees included in the Fortune 5000 working with it. This company brings a secure, private social network to the business world, allowing then companies to have ease in converting "a grassroots movement into companywide strategic initiative."
Steve Ballmer, CEO of Microsoft had the following to say on the acquisition:
"The acquisition of Yammer underscores our commitment to deliver technology that businesses need and people love. Yammer adds a best-in-class enterprise social networking service to Microsoft's growing portfolio of complementary cloud services." – Balmer
Speaking on the joining of these two forces for the greater good of the future, Yammer CEO David Sacks had the following to say:
"When we started Yammer four years ago, we set out to do something big. We had a vision for how social networking could change the way we work. Joining Microsoft will accelerate that vision and give us access to the technologies, expertise and resources we'll need to scale and innovate." – Sacks
This deal will have Yammer continuing to develop its standalone service, with Microsoft in the very near future aiming to accelerate the business-based social network's adoption with bundles that include Microsoft SharePoint, Office 365, Skype, and Microsoft Dynamics.