Michigan's self-driving test site sales pitch: we've got potholes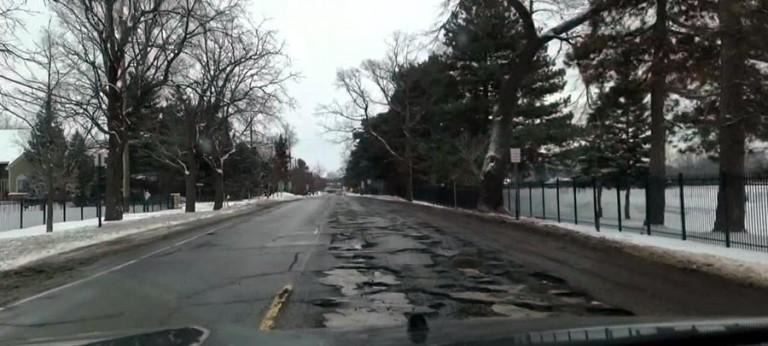 The Great Lakes region can be brutal during winter months, with the true damage becoming apparent once spring rolls around: potholes. Potholes everywhere. It takes time to resurface these destroyed roads, and in the meantime drivers have to be extra careful, otherwise they risk a cracked wheel or more serious damage to their vehicle. It's for this reason, a new proposal argues, that self-driving car manufacturers should use testing grounds in Michigan, not California.
California has an old decommissioned Navy base that it wants make the testing site for autonomous vehicles. Michigan likewise has an abandoned site that had been used for military vehicle construction during World War II, and it plans to transform it into a testing site. The big difference, the state is arguing, is that Michigan provides real-world situations that California can't due to its four-seasons weather.
Said Congresswoman Debbie Dingell, "California is not the real world — they don't have four seasons. We've got real potholes. It's a much more real-world scenario." Michigan's proposed location is a now-ghost town located near the city Ypsilanti — if the test site were built, it would be 330-acres in size.
Both locations have their own perks. The Willow Run Bomber Plant in Michigan, the state's proposed testing site, features things like U.S. Highway 12, which has low traffic levels, and a triple-level overpass, as well as things like tight turns and bridges. If the testing ground is built, it will include both rough environments and cleaned up smoother roads, as well as fake stores and more.
The GoMentum Station in California, however, located where the Concord Naval Weapons Station once was, features 2100-acres, 20 miles of roads, and many empty buildings scattered about, allowing it to serve as a sort of miniature city in which different conditions could be created. When it comes to weather, though, the site enjoys a lot of sun, with its average annual temperature being 60F and its annual rainfall coming in at only about 16.5-inches a year. Such weather conditions are not typical in most of the US.
Both sites are arguing their own benefits, but the GoMentum Stadium has one big perk that Michigan will never be able to counter: it is less than 40 miles away from Silicon Valley.
Of course, Michigan has the upper hand when it comes to many aspects of the auto industry, and it is worth nothing that the University of Michigan already has an autonomous testing site up and running — one that has been heavily used by manufacturers since opening.
SOURCE: Bloomberg