Michael Hedges Purchases 4,500 iPads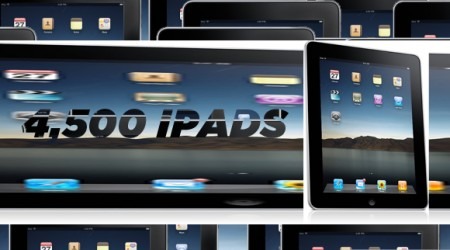 No joke, Michael Hedges purchased 4,500 iPads. Not for himself, of course, but for his company Medtronic to use. Michael Hedges is the CIO, vice president, and head of global IT over at Medtronic, a company of 40,000 employees. Hedges was one of the first corporate users to take an interest in the iPad, switching the normally gigantic expensive displays at a trade show Medtronic sets up at with iPads at its booth – less than a week after the iPad was released.
The reason Hedges chose to ship 10 iPads to the show just days after the US release was a simple one – they didn't have them there yet. Europe at that moment hadn't had a release of the iPads, thus, people at the convention came to the Medtronic booth to look at the pads just as much or more than they did to look at the information they had to present. This is alright with Hedges, who, saying "I didn't care — I just wanted them at the booth," displays his knowledge of both brand ties and hype – notice how you're reading this article now? You wouldn't be had Hedges not shipped those pads.
Of course, afterward, Hedges purchased the giant batch: 4,500 iPads for the whole of the company. Being the head of the global department, he hopes to decrease the incremental IT. Hedges, with the iPad replacing the laptop and the desktop, hopes to extend the normal 3-year refresh rate to a monstrous 4 years instead. Hopefully the entire staff doesn't demand the new camera version, that's what I say.
[Via Computer World]