The smart TV streaming content box Mi Box was refreshed this week with the Mi Box S. This device comes from Xiaomi and delivers the newest in new Android TV software – Android TV 8.1. This box looks a lot like what we saw earlier this year with the Xiaomi Mi Box 4 and 4c, but here we've got a new remote and the newest version of Android TV, and most importantly for us, it'll be released internationally – available to the USA in the process.
Android TV version 8.1 is custom-fitted to Xiaomi's specifications and new remote control with Netflix button. Because apparently Netflix is now so very universally used, it makes sense to include a physical button for Netflix alone.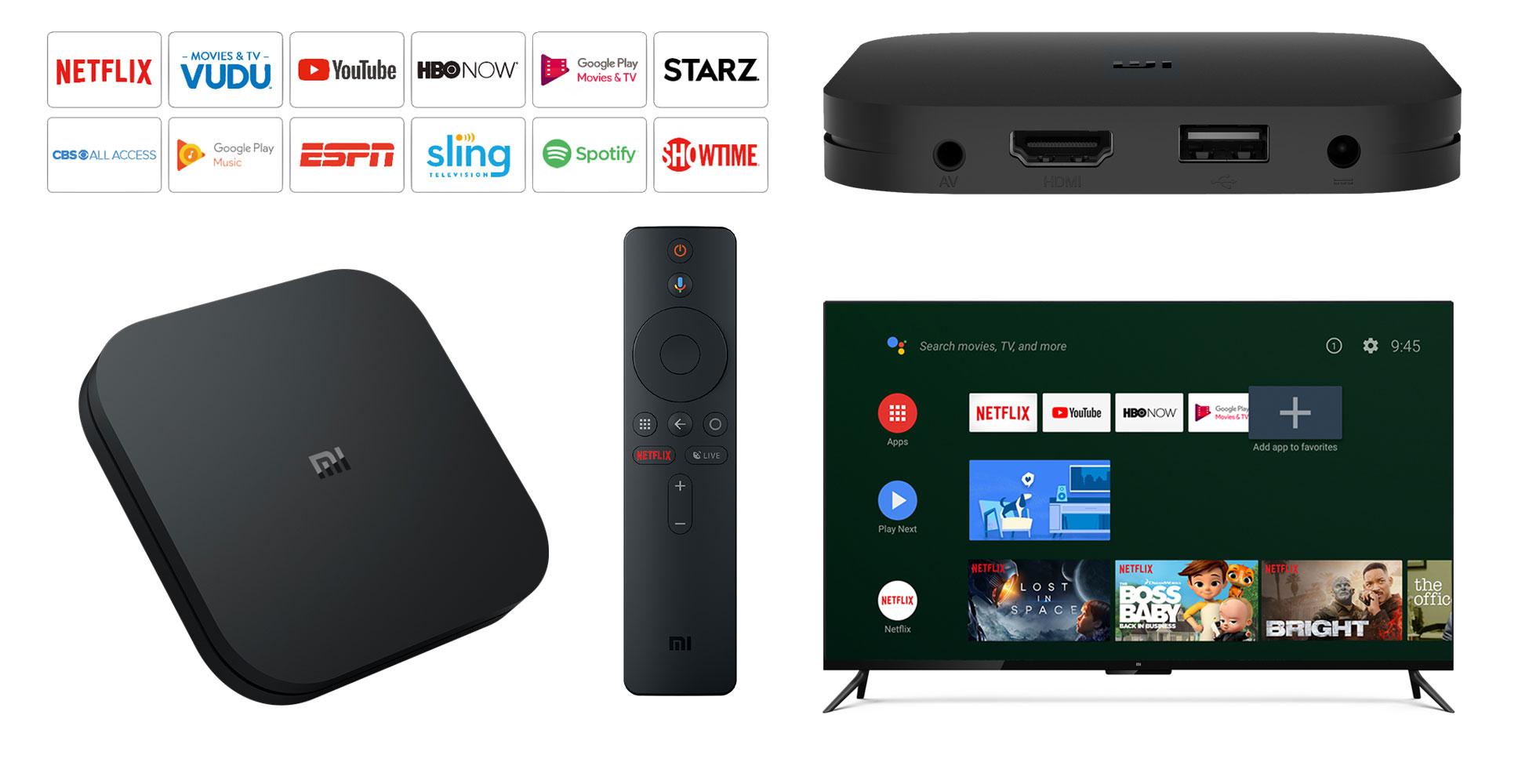 To be fair, this isn't the first time we've seen a physical Netflix button. We've been seeing buttons like this since before Android TV was a brand. Now Netflix joins a collection of other streaming content and etc apps in the Xiaomi Mi Box S. Other apps in the mix include Vudu, YouTube, HBONOW, Google Play Movies, Google Play Music, ESPN, Sling Television, Spotify, ShowTime, and STARZ. Curiously missing from Xiaomi's graphics for this device is Hulu – strange!
There's a new remote control with this smart TV box. The first-gen remote included a directional ring, selection button, Home, Back, and Menu buttons, Power, and a combo volume up/down button. Xiaomi Mi Box 4 added a mic button to the original, plus the directional ring was made into a clickwheel. The new remote for the Mi Box S includes all of the same buttons PLUS a few more: Google Assistant mic button (colorful!), LIVE button, and that new Netflix button.
This version of the Mi Box includes a larger body – 3.75 x 3.75 x 0.66 inches, quite similar to the Mi Box 5c – but here we get twice the RAM. The Mi Box S has 2GB DDR3 RAM for its Cortex-A53 Quad-core 64-bit CPU with Mali-450 GPU. This version of the Mi Box continues to be able to stream in 4K with 60fps. This box can decode VP9, H.265, H.264, MPEG1/2/4, VC-1, and Real 8/9/10. Video formats this box can play include RM, MOV, VOB, AVI, MKV, TS, MP4, and 3D (somehow or another!)
Audio in this box works with DOLBY DTS, and it's able to play MP3, APE, and Flac audio files. Ports around back include HDMI 2.0a, audio out, USB 2.0, and one power port. Power for the remote is provided by 2x AAA batteries (included in the box.) The box also includes an HDMI cable (which is unheard of, and cool of Xiaomi to provide), as well as a power adapter, the remote, and the Mi Box S itself.
Availability
Probably the biggest deal here is US availability – through Walmart. The Mi Box S will be made available in the USA at Walmart for approximately $60 (via Walmart.com) That's around $10 cheaper than its Mi Box predecessor from all the way back in 2016. Pre-orders begin today, and official full availability starts on October 19th. We'll likely see this box for sale elsewhere, too, but it'll be at Walmart first.