Mevo Plus livestreaming camera is first fruit of Vimeo deal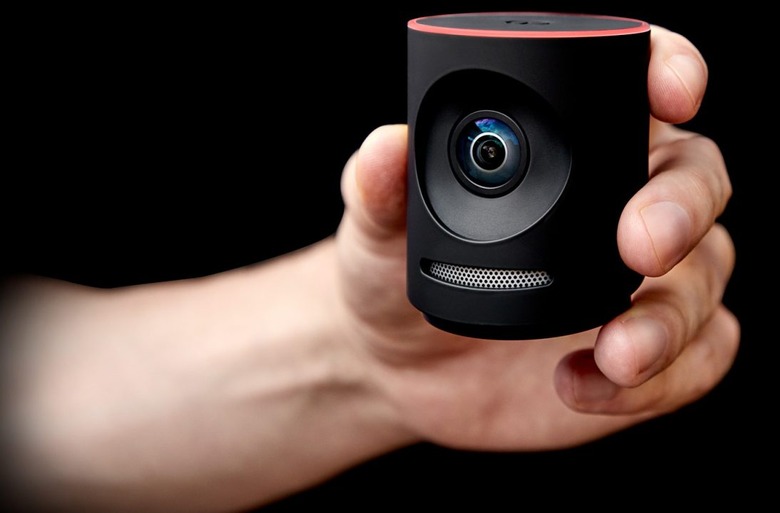 Livestream and Vimeo hooked up in September, and now we get to see the first fruits of that deal. A new Mevo Plus livestreaming camera has been announced today, along with improvements in streaming for anybody with the old Mevo or Livestream's Studio software. The goal is to reduce the number of headaches involved in getting professional-looking live video online.
For existing users, the big news is the ability to now stream directly to a Vimeo Live account. However, if you're not onboard the Mevo train already, there's a new model to consider.
From the outside, Mevo Plus looks a whole lot like its Mevo predecessor. It's a short, stubby barrel of a camera, surreptitiously finished in black with an LED highlight ring around the top: that shows not only when the camera is streaming but lights up on the left, right, or center, to show who is in the shot at any one time. At the front is a 4K Sony sensor, paired wth a 150-degree all-glass lens.

Like before, although the Mevo Plus can record in 4K – complete with electronic image stabilization – it's designed to stream in Full HD 1080p. What's new is the internals: there's a new 802.11ac WiFi chip, along with Bluetooth 4.1 support. As a result, Livestream and Vimeo say, the camera's wireless range has increased more than 5x, to over 100 feet of range. Meanwhile, 2x2 MIMO antennas should improve performance in crowded wireless environments.
The real magic, of course, is in the live editing tools. From the smartphone and tablet apps, users can cut, pan, and zoom between up to nine different "virtual cameras" generated by a single Mevo Plus. To do that, the camera crops the 4K whole into 1080p sections, giving multiple angles from which to choose from.
While you can control that manually, picking from the different angles and adjusting the stream in real-time, Mevo itself can take over if you prefer. The Autopilot mode automatically chooses the most interesting shots, and edits them together with no supervision. It's not just streaming, mind: there's also a microSD card slot for locally storing video.
While Vimeo would obviously rather you use its Vimeo Live service as your streaming platform of choice, the Mevo Plus isn't limited to that. It'll also work with Livestream's own service, in addition to Facebook, YouTube, Periscope, and Twitter. With the optional Mevo Boost there's the addition of more battery life, a USB port, and ethernet, together with support for external microphones.
Mevo Plus is available from today, priced at $499.99. The first-generation Mevo will remain on sale as long as supplies last, cut to $299.99.