MetroPCS Samsung Code SCH-i220 lands with WinMo 6.1... wait, 6.1?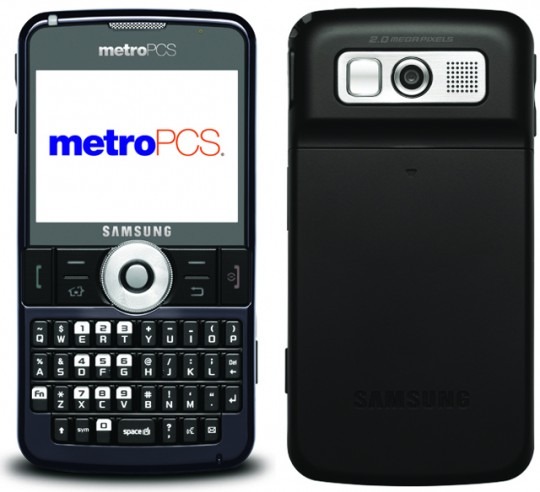 There are times when a press release makes you do a double-take, and MetroPCS' this morning has prompted just that momentary disbelief.  You're looking at the Samsung Code SCH-i220, the first Windows Mobile 6.1 smartphone on the MetroPCS network; yes, while everyone else is getting up to speed with Windows Mobile 6.5, MetroPCS are taking time out to celebrate their first device running the superseded OS.
Of course, there's some upside to going with MetroPCS rather than the other carriers, and in this case it's their $50 everything-in plan.  Once you've shelled out the $299.99 for the Samsung Code itself, $50 per month gets you unlimited voice calls, SMS and data, which neatly undercuts what's on offer elsewhere.
As for the Code, that has a full QWERTY keyboard, 3G, stereo Bluetooth, a 2-megapixel camera and a microSD slot content with up to 32GB cards.  It also has the WizPro UI, Exchange support and all the usual 6.1 Standard software treats.  So, not something you'll be using to vanquish iPhone 3GS toting friends, perhaps, but at least you'll likely have some spare cash at the end of the month.
Press Release:
MetroPCS Introduces its First Windows Mobile® 6.1 Powered Handset

Samsung Code™ smartphone equipped with full HTML Web browser, QWERTY keyboard, direct push e-mail and 2.0 megapixel camera

DALLAS – (October 19, 2009) – MetroPCS Communications, Inc. (NYSE: PCS), the nation's leading provider of unlimited, flat-rate, no signed contract wireless communications service, and Samsung Telecommunications America (Samsung Mobile)1, the No. 1 mobile phone provider in the United States2, today launched the Samsung Code™ (SCH-i220). With MetroPCS' Samsung Code, consumers who are on-the-go will experience the best of productivity and organization, via the Windows Mobile® 6.1 operating system.

The Samsung Code is equipped with the entire Microsoft® suite of tools including contacts, calendar, tasks, notes, voice recorder and Windows Live™. The optional WizPro™ interface allows users to easily customize their home screen and create shortcuts to the most frequently used features on the phone, including missed messages, calendar appointments and more.

Samsung Code users can easily access work and personal e-mail through direct push e-mail and other messaging options. The phone easily synchronizes with any computer via Microsoft Outlook® Mobile through ActiveSync® technology, which can be installed by using the CD included in the box, USB cable or downloading over the air. Once the device is synched, users have instant access to e-mail, contacts and calendar. Corporate and personal accounts can be synced with Microsoft Exchange Server.

"We are excited to add another smartphone to our lineup of the latest handsets," said Roger D. Linquist, president, chief executive officer and chairman of the board of MetroPCS. "In a time when consumers want more from a phone than simply to talk or text, our customers will be able to take full advantage of the Samsung Code's advanced features and services that will give them an enriched wireless experience. This is just another example of how MetroPCS is providing customers with more, all while maintaining the economical unlimited, flat-rate service that they can expect from MetroPCS."

"Samsung Mobile is excited to launch its first Windows Mobile® 6.1 powered smartphone to MetroPCS customers," said Paul Golden, chief marketing officer of Samsung Telecommunications America. "The Samsung Code gives users the ability to balance work and personal communication with a variety of applications and features."

In addition to providing the latest in smartphone features, the Samsung Code has a full HTML Web browser featuring 3G Technology, Stereo Bluetooth® capabilities, a 2.0 megapixel camera and external memory support up to 32GB. Sending e-mails and text messages is fast and easy with the Samsung Code's QWERTY keyboard.

When MetroPCS customers purchase the $50 rate plan they will be able to experience features and capabilities, including unlimited talk, text and data, advanced Web browsing, e-mail and other multimedia functions, all with the convenience of a smartphone.

MetroPCS offers a diverse selection of service plans, which allow customers to talk 24-hours-a-day, seven days a week, for a wireless experience that best fits their lifestyles. With MetroPCS, customers pay by the month, not by the minute, and services do not require a signed contract, deposit or credit check. For more information on MetroPCS, please go to www.metropcs.com.

The Samsung Code is available at all MetroPCS company-owned retail locations and authorized dealers. Visit MetroPCS' Web site at www.metropcs.com for specific locations or to purchase the Samsung Code and sign up for service plans. To find out more information about the Samsung Code, please visit www.samsungwireless.com.