Metal Gear Survive gameplay footage revealed at Tokyo Game Show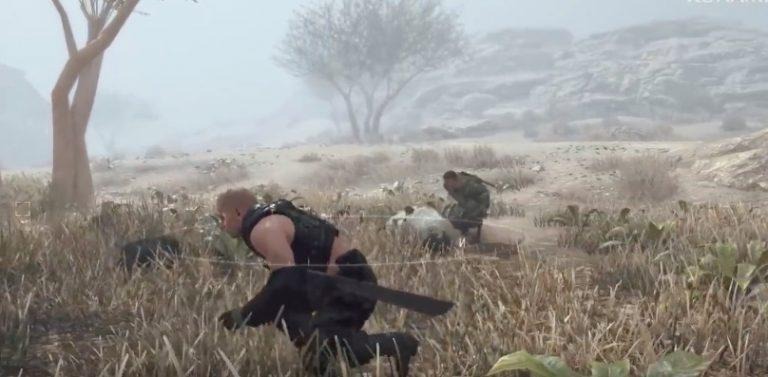 Back in August at Gamescom, developer Konami surprised everyone by announcing the first Metal Gear Solid game after the departure of series creator Hideo Kojima. Dubbed Metal Gear Survive, the upcoming game doesn't star protagonist Snake, but instead features four-player, online co-op survival play set in an alternate timeline of the MGS5 universe. Now this weekend's Tokyo Game Show was used to reveal the title's first gameplay in a demo running just over 15 minutes.
As was clear from the first trailer (which you can watch at the bottom of the page if you haven't seen it yet), Survive's graphics and overall setting is very similar to MGS5: The Phantom Pain. Since we now get to see characters being controlled, it's also apparent that movements, stealth mechanics, and weapons use is largely unchanged as well.
That doesn't mean this is just a remix of MGS5; this time around players are teaming up to fight off zombie-like enemies that can charge in large groups and attack in ways that intelligent soldiers normally wouldn't.
While the video is in Japanese, there are English subtitles that describe everything that's going on during the gameplay and how new mechanics work. In addition to four-player co-op, players will have the ability to craft gear and weapons like fences and turrets. These will come in handy during situations where a base or area must be secured and defended.
Also interesting is that the unique healing system from MGS3: Snake Eater is making a return in Survive, with players needing to go into the menu and heal or bandage specific parts of the body with the appropriate tools or medicine.
Metal Gear Survive is scheduled for release in January 2017 on PS4, Xbox One, and PC. Konami has also revealed that the won't be priced at the standard $60, but will instead cost around the same as MGS5 prequel Metal Gear Solid: Ground Zeroes, which was $30 at launch.
VIA Eurogamer