Metal Gear Solid Touch for iPod touch & iPhone released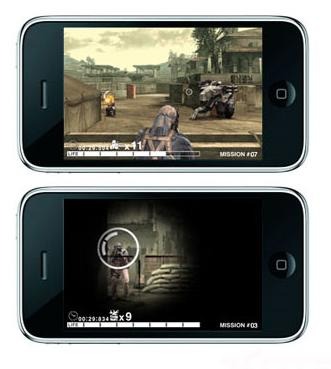 The full version of Metal Gear Solid Touch for the iPhone and iPod touch has been released, with Konami adding new levels to this latest version.   Controlled primarily via the touchscreen, to target opponents and move through levels, Metal Gear Solid Touch also supports shaking the iPhone or iPod touch to attack during the Mantis Boss Battle stages.
Once the 20 stages of the game have been completed, players have access to a new "Survival Mode" that lets them play the whole thing again, with the facility to skip the story images and ignore the life gauge.  If that doesn't seem too much of a bonus (and we don't blame you), you also get access to more than 30 different wallpapers that can be "bought" for Drebin Points acquired at the end of each stage.  These wallpapers include previously-unreleased Yoji Shinkawa character illustrations. 
Anyone already with the initial Metal Gear Solid Touch game on their handset can now upgrade to this new version for free.  If you didn't leap when you had the chance, the game is now available for purchase; a free "lite" taster version will be released soon. 
Press Release:
KONAMI LAUNCHES FULL VERSION OF METAL GEAR SOLID TOUCH ON APPLE iPHONE AND iPOD TOUCH

Popular App Expanded to Include New Levels and Intuitive Touch Shooting Controls

EL SEGUNDO, Calif. – April 23, 2009 – Konami Digital Entertainment, Inc. announced today that the full version of METAL GEAR SOLID TOUCH has launched on the Apple App Store. Set in the immersive world of METAL GEAR SOLID 4: GUNS OF THE PATRIOTS and created with the concept of allowing players to "touch" upon the world of METAL GEAR SOLID, the highly anticipated full version of the game introduces eight additional gameplay levels to the iPhone and iPod touch.

Developed by Kojima Productions and designed specifically for the iPhone and iPod touch, METAL GEAR SOLID TOUCH unfolds in five chapters over a span of the 20 stages with familiar enemies attempting to keep Old Snake from accomplishing his mission. The characters featured in the latter eight stages of the story will feature new abilities, putting them in a class of their own. Powerful enemies, such as the remainder of the "B&B Corps" and the dreaded Gekko, along with unique gameplay mechanisms such as piloting Metal Gear REX in battle, will have players facing multiple challenges that can't be overcome by mere "tapping." The variety of new elements will test strategy and insight more than ever before.

Taking advantage of the iPhone's capabilities, players can shake their iPhone during Mantis Boss Battle to attack. Once all 20 stages have been cleared, a Survival Mode is unlocked, which lets players skip the story images and play stages consecutively without replenishing their life gauge.

As an added bonus, players will have access to over 30 original wallpapers that are available from Drebin's Shop. Drebin Points are awarded according to the score at the end of each stage. The wallpapers feature a variety of artwork that include unreleased illustrations by METAL GEAR SOLID character designer, Yoji Shinkawa, gorgeous 3D CG, as well as images that were designed using METAL GEAR SOLID as a motif.

Players who have already installed the initial release of METAL GEAR SOLID TOUCH can update to the complete version for free. For those who have yet to purchase the game, the complete version is available for purchase from the Apple App Store on iPhone and iPod touch or at www.itunes.com/appstore/. For players who just want a "touch" of METAL GEAR SOLID, Konami will soon be releasing METAL GEAR SOLID TOUCH Lite, a free version that players can use to sample the game. For more information, please visit http://www.touch.konami.jp/mgst.