Metal Gear Solid PS4 package stays simple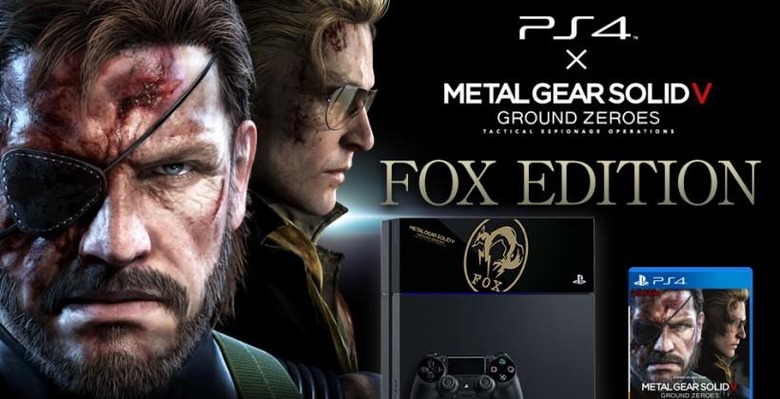 This week the first "special edition" PlayStation 4 has been revealed with Metal Gear Solid in tow. This game system will roll with Metal Gear Solid V: Ground Zeroes in the box alongside a system that's ever-so-slightly modified beyond its original form. Have a peek at that lovely FOX in gold and let us know if you're all about the change-up.
Outside of the gold emblem emblazoned on the side of the PlayStation 4 as it sits upright, you'll find the same 500GB internal storage size and build as the only PS4 to have been released to the wild thus far. This system otherwise sticks the same as the original and – as we found this morning – will be pushing 1080p Metal Gear Solid V while the Xbox One brings slightly less.
Both consoles will, on the other hand, be rolling with 60 fps, or 60 frames per second as developers at Kojima Productions have made clear. Also revealed this week was the fact that Metal Gear Solid runs at 720p on both the PlayStation 3 and the Xbox 360, while 30fps sticks to this previous generation.
Straight from Sony you'll find that the special edition Metal Gear Solid PlayStation 4 will be available starting in March. While this March 20th release date for the console holds true in Japan, we're still waiting on a solid date for the USA.
The final pricing will be extremely close – if not exactly on – the same price as if you'd have purchased the game and the console separately. In other words – if you're not too impressed with the gold, you might just want to pick the PS4 up now and grab the game later.