Mercedes Teases Super-Luxe S-Class Cabriolet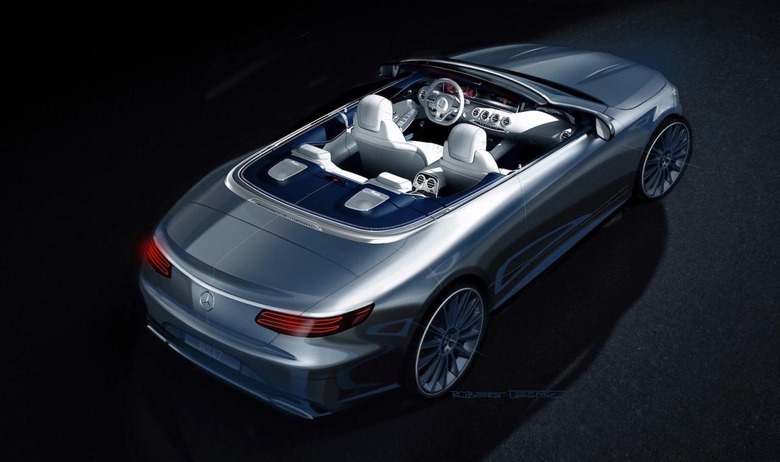 Pebble Beach might have been jam-packed with luxury convertibles, but Mercedes-Benz thinks there's space for its own take on high end drop-top glamour. The S-Class Cabriolet has been cropping up in spy shots for some time now, and Mercedes has finally relented and shared a render of what the open-top should look like. Think along the lines of four seats and ridiculous levels of luxury.
Hardly surprising is the close resemblance to the S-Class Coupe. Both cars share the same, distinctive rear light clusters.
Inside, the dashboard is also similar to what's found in its Coupe cousin. Mercedes-Benz doesn't stint on the gadgetry, with things like a head-up display, 360-degree cameras, Burmester audio system with 3D sound, and dual 12.3-inch screens built into the hard-top's dashboard.
Of course, the Cabriolet switches to a power soft-top roof, which will retract into the section behind the rear seats.
As for engines, Mercedes isn't talking much in the way of detail but the Coupe's 576 HP 5.5-liter twin turbo V8 – found in the Mercedes-AMG S63 car – is believed to also be finding a place under the Cabriolet's hood. Even more powerful will be the 6.0-liter V12, another twin-turbo engine that's good for more than six hundred horsepower.
The expectation is that Mercedes-Benz will take the wraps off the new S-Class Cabriolet officially at the Frankfurt Auto Show next month.