Mercedes takes luxury sky-high with its concept private jet interior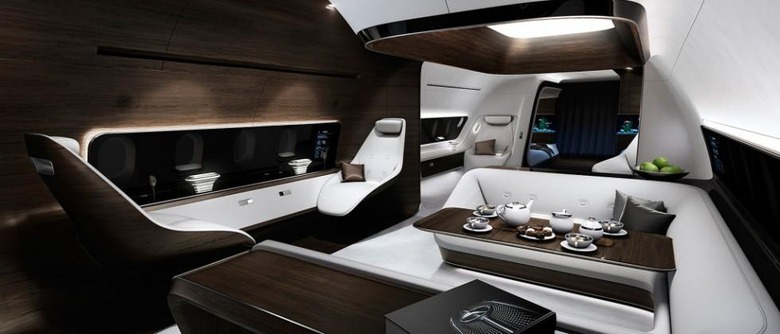 While most of us fly economy, crammed into planes like a flying tin can, some people skip business class altogether and head straight for their own private jets. These luxury flyers never have to worry about getting stuck in the middle seat. With this concept design from Mercedes, the choice is between a sleek armchair and a cushy sofa. This concept design is from Mercedes' parent company, Daimler. In a unique partnership between Mercedes-Benz Style and Lufthansa Technik, the concept jet interior does away with walls and rooms. A "dynamic, spiral layout" creates the illusion of more space, while a shift in color scheme is used to indicate separate areas.
Integrated into the walls are touch screen panels and displays, but they are rendered completely invisible until activated. Inside the cabin windows are panels that dim the windows at the flip of a switch (more likely, by swiping of a touchscreen.)

According to Senior VP of VIP and Executive Jet Solutions at Lufthansa Technik, Walter Heerdt,
"Our goal is to offer a highly discerning global clientele a standard of interior design that leaves nothing to be desired. Whether for private or business use, our modular completion concept perfectly fits every purpose."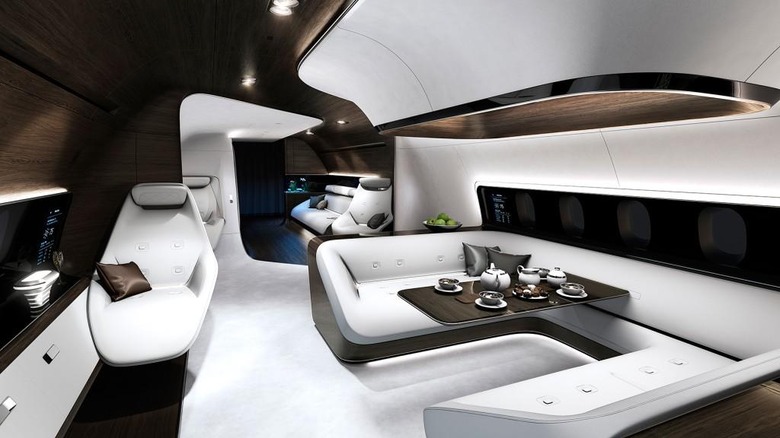 Although I can be content on practically any flight with Wi-Fi and the latest episodes of my favorite TV shows on the entertainment system, some people are more difficult to please. I doubt even "discerning" clientele will be able to find fault with Mercedes new luxury design. The prototype design doesn't come with a price tag yet, but price might not be an issue for those who already own a private jet.
Source: Wired