Mercedes plots connected cars: Facebook AR, car-sharing & apps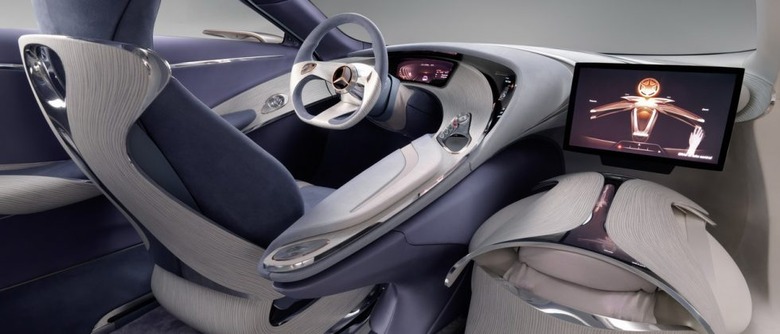 Mercedes-Benz is talking connected cars at CES today, outlining a vision where future vehicles not only communicate with you, your phone and your social networks, but with each other and the cloud to promote car-sharing schemes and eco-friendly use. The company outlined its @yourCOMAND in-car communication, entertainment and navigation system – which relies on a smartphone connection and continuously evolving cloud services to buck the trend in quickly-outdated ICE kit – as well as potential future developments including a full-windshield head-up-display that would shift augmented reality beyond the realm of simply stacking visual data.
MB calls this the "Dynamic & Intuitive Control Experience" or DICE. The front view out of the car could have speed, points-of-interest, engine efficiency, navigation and other information superimposed, as well as flagging up safety hazards; however, location-based services could also be used to pull in other information, such as playing venue-themed music when driving past a club. Local news, or information about landmarks and places could be accessed via a simple gesture; meanwhile, drivers would be able to leave location-fixed messages and alerts for others.
"As much as a smartphone can be far more than just a tool for communication, a smart car can be more than just a means of transportation" Mercedes-Benz head Dr. Dieter Zetsche said at the tech show today. "Precisely at the interfaces between communication and mobility, vast potential for innovation lies dormant, and we intend to tap it."
Zetsche also suggested that the in-car telemetrics could be used to create impromptu car-shares, alerting those in need of a ride that there's a vehicle nearby, headed in the right direction, that has a spare seat. Called CarTogether, it could use Facebook as an organizational venue, and sit alongside traditional short-term rental schemes like ZipCar.
Perhaps more likely in the short term is "Media", "Social" and "Places" integration into the infotainment system, which Mercedes says could be used to flag up which of your Facebook friends are nearby on a 3D city outline. The company already offers internet access and Mercedes Apps in Europe as part of the COMAND Online system; that will soon be offered in the US as mbrace2.