First there was glamping, injecting a little glamour into dull, pedestrian camping; now, Mercedes-Benz wants to crank that up to 11 with its latest bizarre Zetros version, a luxury mobile home with the off-roading capability of a Unimog. The carbon fiber vehicle targets outdoors-types for whom the thought of exploring the wilderness without bringing natural stone floors, real-wood furniture, and a proper glass shower is anathema.
Mercedes-Benz turned to Hartmann Spezialkarosserien for the body, 5.6m long and 2.4m wide, and using galvanized and plastic coated panels for the walls, roof, and floor, along with an electrically powered carbon fiber slide section which increases internal space to 2.5m. The latter gets integrated heating elements, stopping ice and snow from collecting and preventing it from moving.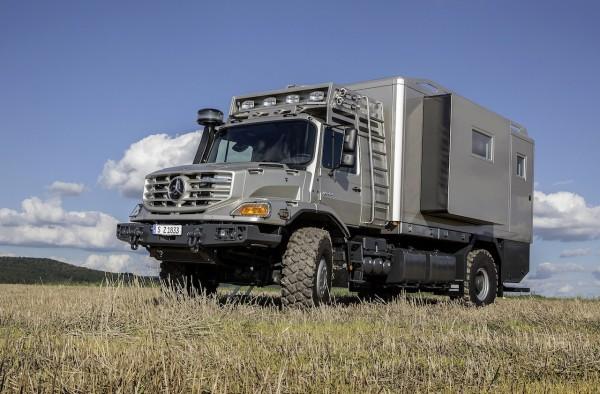 Meanwhile, there's a power-lift for bringing along a motorcycle, while Mercedes has outfitted the Zetros with sufficient tanks for 300 liters of fresh water and twice that amount of diesel fuel. Power is courtesy both of a solar energy system charging li-ion batteries and an onboard generator.
However the two hot-water heaters each have their own diesel generators, and there's an air conditioner too. That's only the start of the interior fit-out, however, with Mercedes and Hünerkopf opting for a double bed, L-shaped seating, real-wood veneer in bird's-eye maple, and quintuple lacquering.
An automatic satellite dish hooks up to the LED display, and there's Bose audio along with internet access. Mercedes is particularly proud of the bathroom, with a separate shower with real glass, along with the lighting, which is all courtesy of low-power OLED.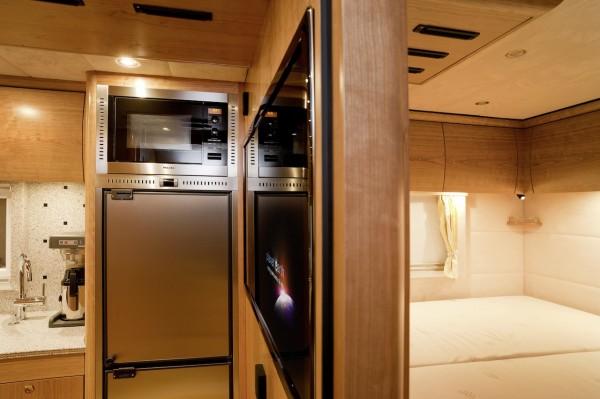 Underneath is where things get serious. The Zetros packs a 7.2-liter six cylinder engine good for 326 HP, with permanent all-wheel drive, a two-stage transfer case, and three differential locks.
The cab is separately articulated from the body, and so the whole thing is able to ford depths of almost 1.2m and climb 80-percent inclines.
In short, Mercedes-Benz says, the Zetros has the same sort of go-anywhere abilities of the Unimog, its famed medium-weight truck that has seen service in deserts, jungles, and wars, yet without sacrificing the penthouse feel. No word on how much one would set you back, but the order books open this week.