Mercedes-Benz VISION EQS is an unexpectedly practical concept of eco-luxury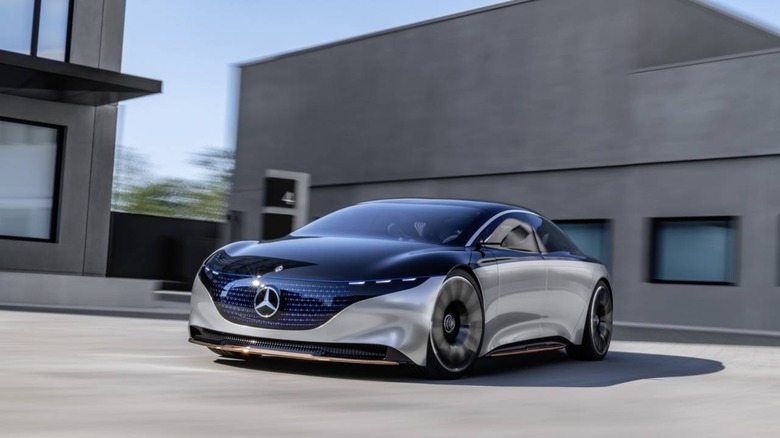 Where does the luxury car go next, not just when it comes to what's under the hood, but in a new age of design, autonomy, and sustainability? That's the question Mercedes-Benz has set out to answer at the Frankfurt Motor Show 2019, with the VISION EQS concept previewing one possibility and the future of the automaker's Progressive Luxury design language.
It's certainly striking. Mercedes describes the VISION EQS' proportions as "one bow": a flowing, sculpted aesthetic that almost looks as though it's been molded from a single piece of metal.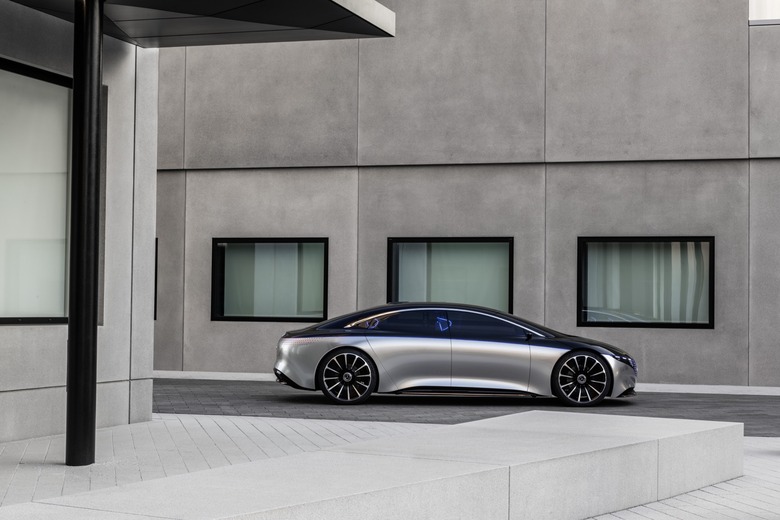 Through that is punctuated distinctive lighting, from an LED "lightbelt" across the shoulder line of the concept, to the DIGITAL LIGHT headlamps. Each of those get a pair of holographic lens modules, while the fascia itself incorporates 229 individually-illuminated stars. The front grille is a 188 LED matrix, each a pinpoint shining through the gloss black panel.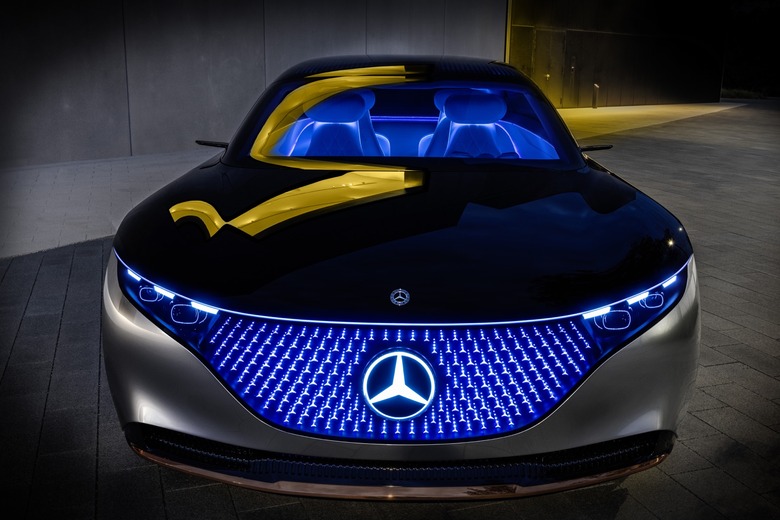 Inside there's a similar sense of drama. There, Mercedes says the inspiration is luxury yachts, with long flowing lines. The dashboard blends with the front trim, stretching around and then punctuated with floating armrests and a center console. The VISION EQS then projects that space with digital graphics, while organically-emerging displays sprout from the surfaces.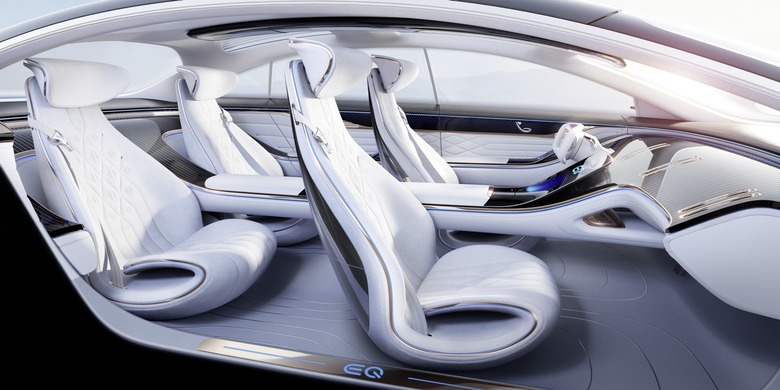 It's not just lavish, though, it's designed to be green in some way. Clearly, nobody is going to confuse a huge luxury car as being entirely environmentally-friendly, but Mercedes says it has used eco materials where it can. The DINAMICA microfiber, for example, is actually made of recycled PET bottles; it sits alongside real maple trim.
Artificial leather, too, is implemented, with a surface finish like that of kappa leather. The roof liner is a textile that sues recycled "ocean waste" plastic, a nice nod to the boating theme. What's notable is that none of these materials are outlandish or impractical: Mercedes could, if it (and its customers) wanted to, start implementing them in production cars fairly quickly.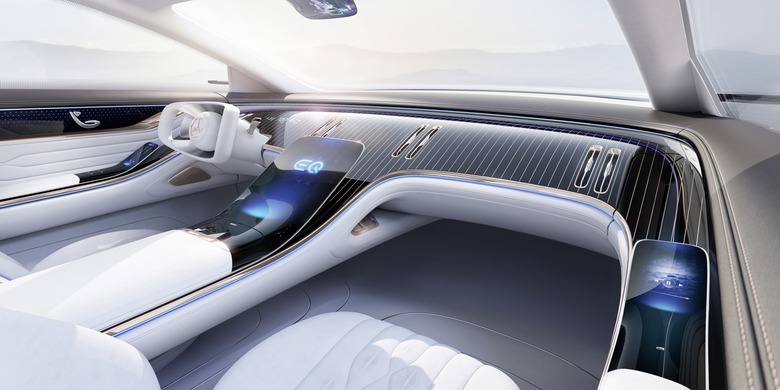 Under the curvaceous skin, there are electric motors front and rear. Powered by a battery in the floor-plan of the VISION EQS, they deliver more than 469 horsepower and around 560 lb-ft of torque. Mercedes says that would be enough to send the concept from 0-60 mph in less than 4.5 seconds. Range could clock in at up to 435 miles on the WLTP cycle, meanwhile, with an 80-percent charge in under 20 minutes on a 350 kW charger.
Top speed would be above 124 mph, and the dual-motor configuration could allow for variable torque distribution front to rear depending on the demands of the road. Mercedes imagines a Level 3 semi-autonomous driving system too, though the modular design of the VISION EQS technology platform could allow for a more capable Level 4/5 platform to be installed in the future.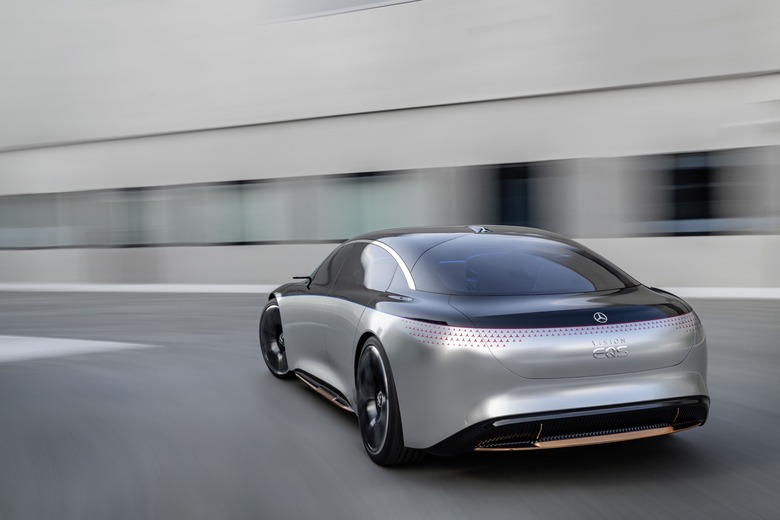 Indeed modularity is a key part of the whole concept – and, Mercedes says, of its EVs looking forward. "With the Vision EQS technology platform, Mercedes-Benz is opting for a completely new, fully-variable battery-electric drive platform," the automaker explains. "This is in many respects scalable and usable on a cross-model basis: thanks to the modern modular system, the wheelbase and track, as well as all other system components, and especially the battery, are variable and therefore suitable for a wide range of different vehicle concepts."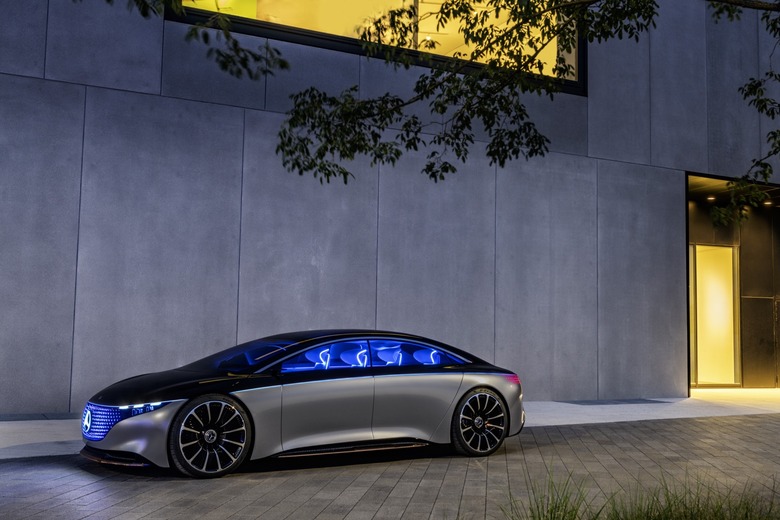 How much of this could end up in future Mercedes production cars, like a flagship S-Class sedan? That remains to be seen; the automaker so far has just one full-EV in its range, the 2020 EQC SUV, though many of its models are available as hybrid and plug-in hybrid variants. This VISION EQS is described as "a trailblazer" for the EQ family, though we may be some time before such a car is practical.