Mercedes-Benz Vans Vision Van is all electric and carries drones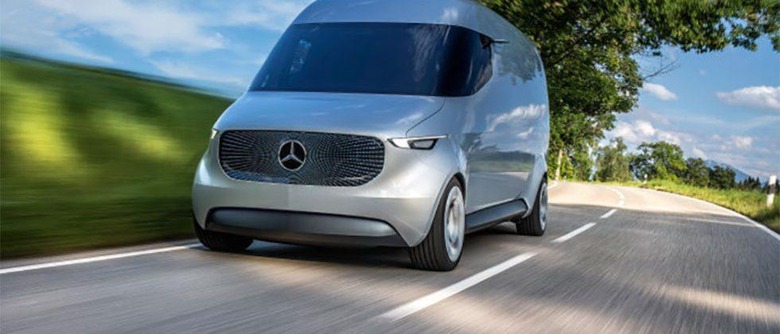 Mercedes-Benz Vans is showing off its vision for the future of delivery vehicles. The van concept is dubbed the Vision Van ad it is part of the Mercedes-Benz Vans future initiative called adVANce meant to expand the growth strategy and develop new business models for the automaker. A major investment has been made into the initiative of 500 million euros over the next five years to develop digitalization, automation, and robotic vans along with other innovative solutions.
The new organizational unit with the company has 200 employees working on the project. The Vision Van in the images here is a study for a vehicle that would be all electric powered with a range of 270km per charge. The van would have a fully automated cargo space and integrated drones atop. This sounds like the ideal vehicle for the tech tie up between Mercedes-Benz and Starship Technologies with its little cooler-shaped autonomous delivery robots.
The Vision Van is seen as an innovative solution for the last mile of delivery. The system would allow for both autonomous and manual delivery of packages to their final destinations. Powertrain for the concept is a 75kW electric drive and range would vary depending on application from 80km to 270km. Mercedes says that the silent nature of an electric van means that deliveries can be conducted at night in residential areas without noise disturbing those who live nearby.
"With the Vision Van from Mercedes-Benz Vans we provide an idea of future generations of vans: the intelligent automation technology connects the entire process, from loading and transportation by road through to delivery to the consignee. This makes it easier for the deliverer to do business and rapidly reduces the delivery time for end customers", says Volker Mornhinweg.
"Equipped with an electric drive system, the Vision Van not only operates locally emission-free, it also moves almost silently. This means that it can be operated in cities even during times when there are traffic restrictions or for late-night deliveries in residential areas. This gives our customers the possibility of offering new services to their customers."