Mercedes-Benz teases September 4 unveil for EQ electric car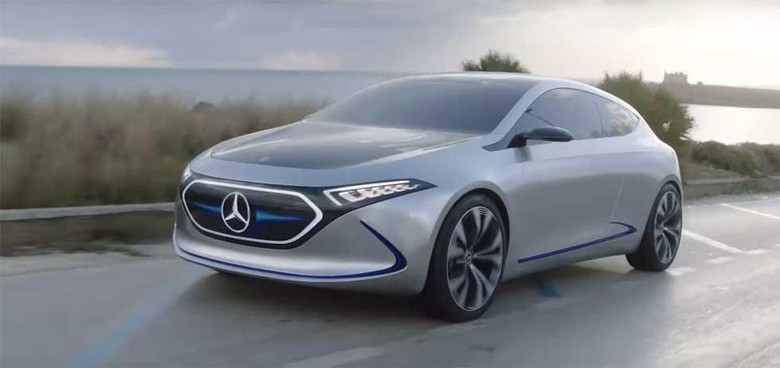 Mercedes-Benz has taken to Twitter to tease September 4 as the unveiling of its first all-electric model under the EQ brand. The teaser is very short at only 15 seconds and shows what appears to be a headlight and a small portion of the front bumper of a car. No specs or other details are offered.
The headlight in the short video certainly looks a lot like the EQA EV prototype that we have talked about before. That model is expected to debut after Mercedes-Benz rolls out the EQC SUV expected as early as next year. The teaser video looks more like the EQA than the camouflaged EQC SUV that has been spied rolling the streets.
.@MercedesBenz is flipping the switch: On September 4th, we will present our first all-#electric #MercedesBenz model of our new product and technology brand EQ. Here's the very first design detail. Stay tuned!

👉 https://t.co/3Pej7au1Xu #Daimler #switchtoEQ pic.twitter.com/i2aDbcMyQs

— Daimler Truck AG (@DaimlerTruck) August 26, 2018
What has been tipped for the EQA all-electric compact car is a battery pack up to 60 kWh in size. The expectation is about 250 miles per charge on the NEDC cycle or about 200 miles per charge on the EPA cycle. That will put it a bit under competing EVs already out there from Tesla and others. Mercedes is promising DC fast charge tech good for 62 miles of range with a 10-minute charge.
Details that have been spilled so far on the EQC electric SUV include lots of details on testing in different environments. Mercedes confirmed that it had built nearly 200 prototype rides so far. When it launches the EQC it will have undergone testing for about four years.
This EV will be a global car selling in Germany, Finland, Sweden, Spain, Italy, Dubai, South Africa, China, and the US. Mercedes is betting big on electric cars and plans multiple models over the coming years.
SOURCE: Twitter