Mercedes Reveals The 5G Robot-Filled Factory For Its Most High-Tech Cars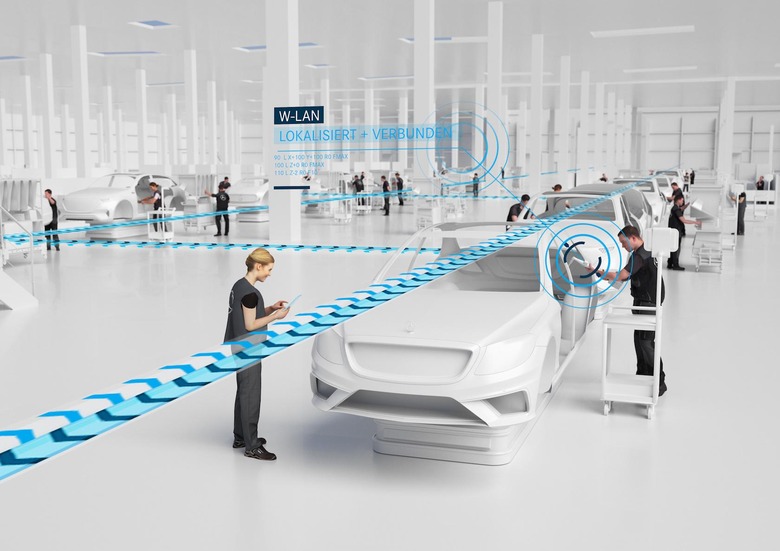 Mercedes-Benz has revealed the high-tech production line on which key models like the first EQ electric car, the new S-Class, and its autonomous cars will be built, and it could be more advanced than the vehicles themselves. Dubbed Factory 56, the new plant in Sindelfingen, Germany is about as far away from the traditional vision of manufacturing – or building cars in a tent – as you can imagine.
Indeed, it's an opportunity for Mercedes parent Daimler to push the boundaries of how cars are currently produced. A key principle of that is flexibility. Given the wide range of vehicle types and sub-categories that have become a mainstay of Mercedes' range, being able to change how facilities prioritize production is increasingly important.
As a result, Factory 56 does away with the traditional assembly line in many areas. Instead, it use TecLines: driverless transport systems that can move builds-in-progress from section to section. The route of each TecLine unit can be adjusted remotely, as it shifts between stations, or extra capacity introduced if a model suddenly gains in popularity and orders rise.
"By combining an assembly line with 'TecLines', on the one hand we have high-efficiency assembly for large-scale production at our disposal, while on the other hand we gain flexibility so that we can adjust our production without any great effort or interruptions to current operation," Markus Schäfer, Mercedes-Benz Cars' lead for Production and Supply Chain, explains.
It's achievable because as well as being a car plant, Factory 56 is also one huge Internet of Things project. Mercedes will be trialing 5G, with embedded radios in everything from the TecLine systems through to intelligent picking systems that will make sure each station is supplied with the components it needs. A total of 300 driverless systems will work together like one big car-producing dance.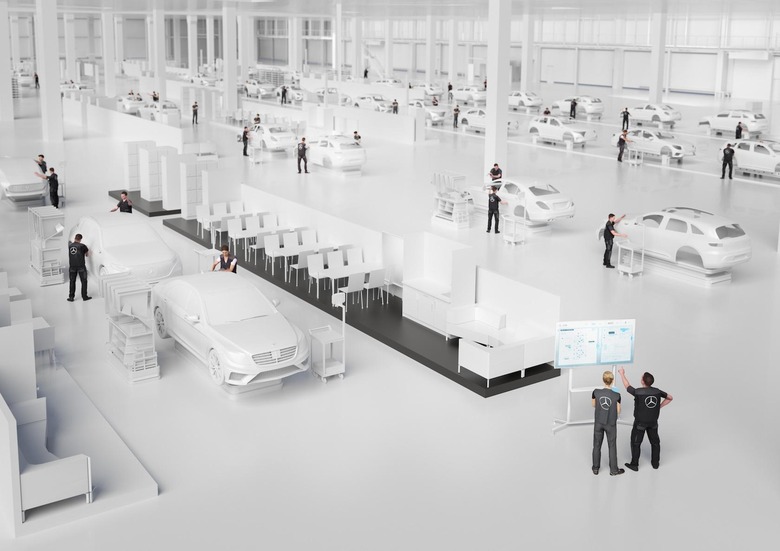 That's not to say that human workers have been edged out. Instead, Schäfer argues, their roles will also be more flexible, better adapting to individual and family circumstances. In effect it's just-in-time production but for shift plans, with Mercedes hoping that employees will be able to control their working hours via an app.
On the green side, Factory 56 will use a CO2-neutral energy supply when it opens, and have solar panels nestled in among the plants on its green roof. The hall itself will be translucent, allowing more daylight through and reducing the reliance on artificial lighting. For customers, meanwhile, the plants high degree of connectedness will allow them to get regular insights into the manufacturing of their own particular vehicle.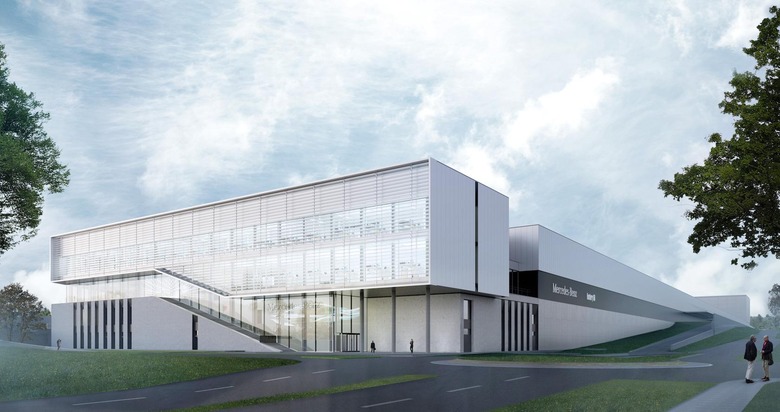 While most people won't get to enjoy a next-generation S-Class or a 2020 ECQ electric SUV, the principles behind Factory 56 will go on to shape how Mercedes builds the rest of its line-up. Describing it as "the blueprint for all our future vehicle assembly halls around the world," Schäfer says that both its new locations and existing plants will get upgrades in line with the tech it's trialling at the new facility. Production is expected to begin at the start of the next decade, the automaker says.