2020 Mercedes-Benz EQC Revealed: EV Range, Power & All The Tech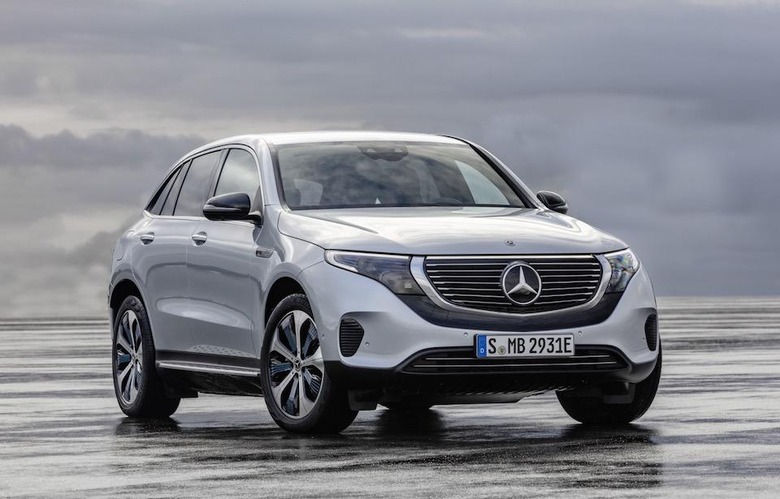 The Tesla alternatives are lining up, and latest to the electric party is the 2020 Mercedes-Benz EQC. First of the German automaker's EQ brand, its new subbrand for "Progressive Luxury" with a distinct technological twist, the all-wheel drive 2020 EQC 400 4MATIC crossover will deliver 402 horsepower and what Mercedes says should be around 200 miles of range.
It's taking on Jaguar's I-PACE, Audi's e-tron quattro, and the BMW iX3 in the process, not to mention those looking to cross-shop with Tesla's Model X SUV. What you first notice, though, is how different the 2020 EQC's design language is compared to Mercedes' other recent – albeit gasoline, diesel, or hybrid – cars.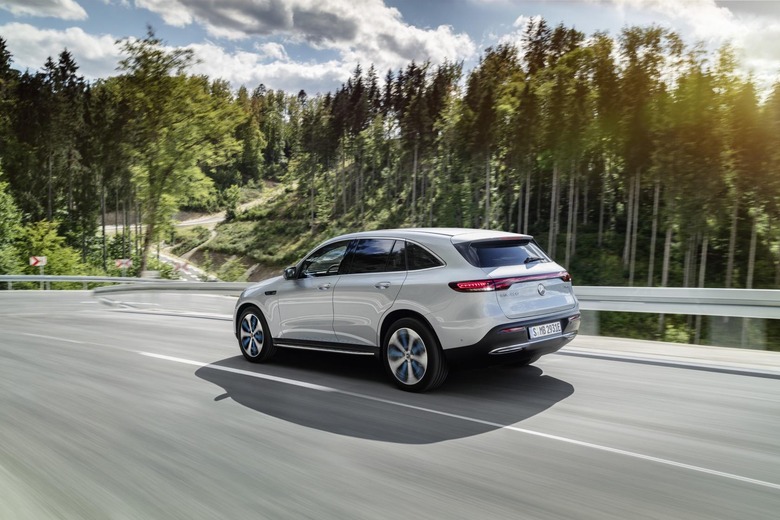 Elements of SUV share bodywork with proportions more familiar from a coupe. The roofline is extended, while the shoulderline is lowered. At the front, there's a sizable black fascia that encompasses the grille and the three-pointed star.
Daytime running lights are accompanied with an LED Light Band, which in low-light conditions will look almost like an uninterrupted light strip across the front of the car. Some markets will get an illuminated Mercedes star, too.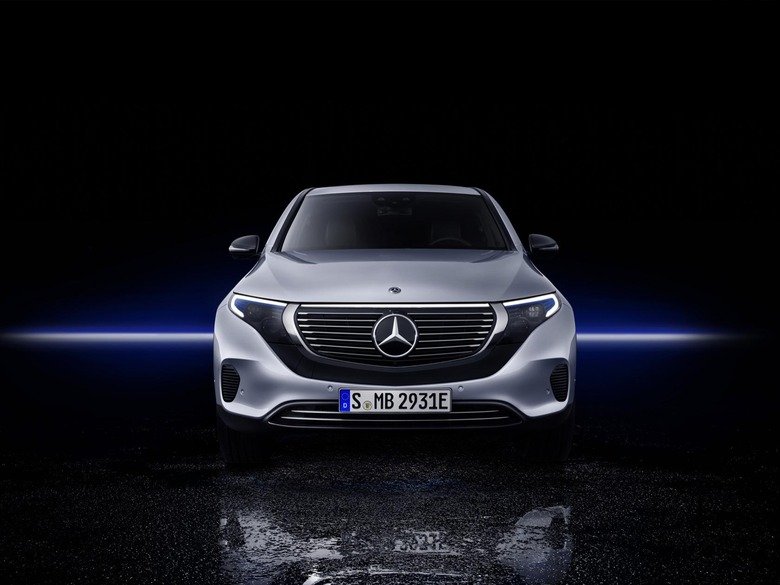 They're not just for the aesthetics, either. Mercedes is using them in collaboration with the radar sensors that Active Distance Assist DISTRONIC relies upon, one of numerous driver-assistant and active safety aids that will be offered.
Visually lowered, thanks to the black lower bumper trim, side trim, and rear bumper trim, the EQC makes the most of its stance with a low roof spoiler. High-gloss aluminum trim strips frame the side windows, and there are 19- to 21-inch bicolor light alloy wheels, fitted flush with the wheel arches for aerodynamic performance. Two of Mercedes' wheel options will have blue touches on the rim flange or spokes.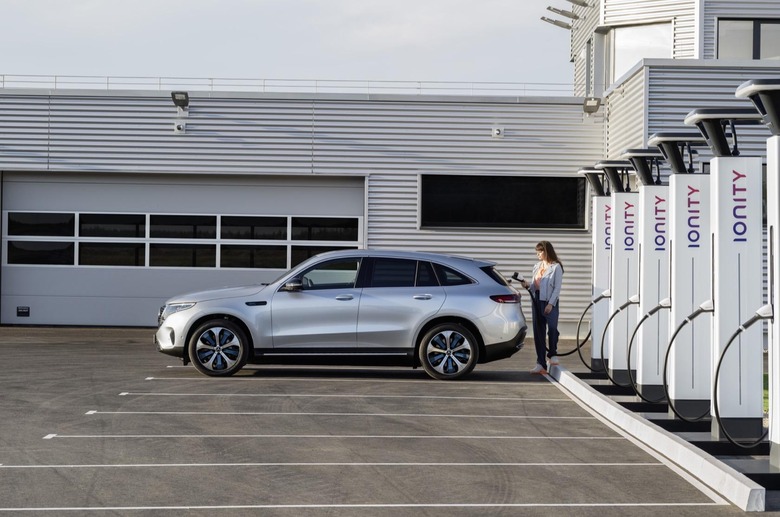 That's a nod toward the all-new drivetrain. Mercedes is using two electric motors, designed especially for the EQC, and a custom battery. Each axle gets a motor for all-wheel drive: the front is tuned for maximum efficiency at low and medium load, while the latter kicks in for extra sporting performance. Together, in the 2020 EQC 400 4MATIC, they're good for 402 horsepower and 564 lb-ft of torque. 0-60 mph arrives in 4.9 seconds, while the top speed is an electronically-limited 112 mph.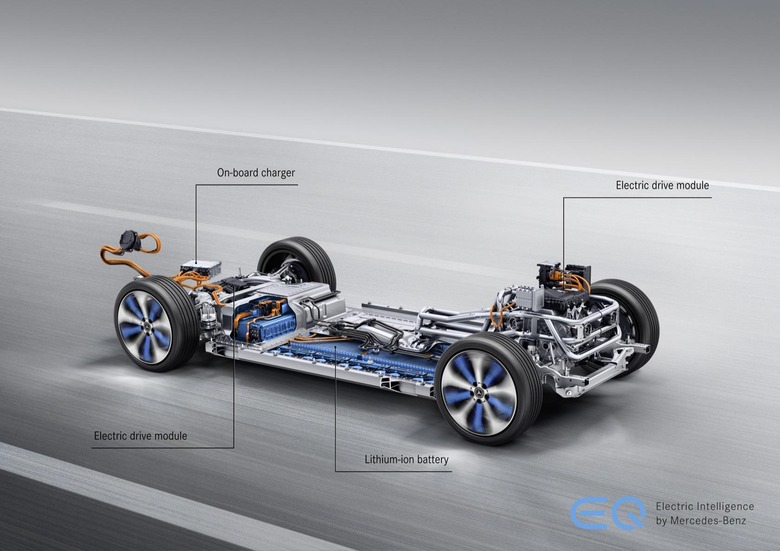 The 80 kWh battery, meanwhile, is mounted in the floor. Mercedes hasn't settled on range yet, but is expecting around 200 miles by the time the 2020 EQC is finalized. As you'd expect there'll be regenerative braking, and the car can automatically decide which motor to use depending on driving situation and economy. Even when it's driving frugally, using only the front motor, the EQC can still rely on both motors to feed regenerative power back into the battery.
Update: Mercedes USA says that, contrary to the original range figure it published, "The preliminary estimated range figure for the EQC for the U.S. market is not available." Instead, it's currently quoting approximately 450 km on the NEDC cycle – or approximately 279 miles – and says "The official U.S. range will be communicated closer to market launch once available."
Of course, most of the time you'll be doing that by plugging in. The battery consists of 384 li-ion cells, made up of modules that will eventually allow Mercedes to offer different EQ cars with different ranges. Flip open the charging flap – integrated flush with the rear right side wall – and there's DC fast charging support as standard.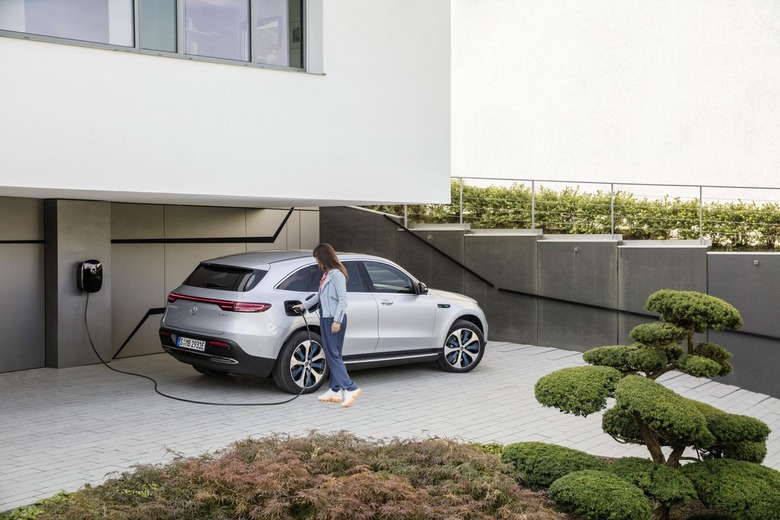 It'll handle up to 110 kW at compatible charging stations, with the battery going from 10- to 80-percent in around 40 minutes. If you only have a regular domestic outlet, or a Level 2 connection, you'll be able to use the 2020 EQC's 7.4 kW onboard charger.
There'll be five different drive modes. Comfort will be the default, while Eco will ramp up the efficiency. Max Range will try to guide the driver through achieving the maximum possible range, while Sport will prioritize enthusiastic driving. Finally, Individual will allow personalized customization of each of the driving settings.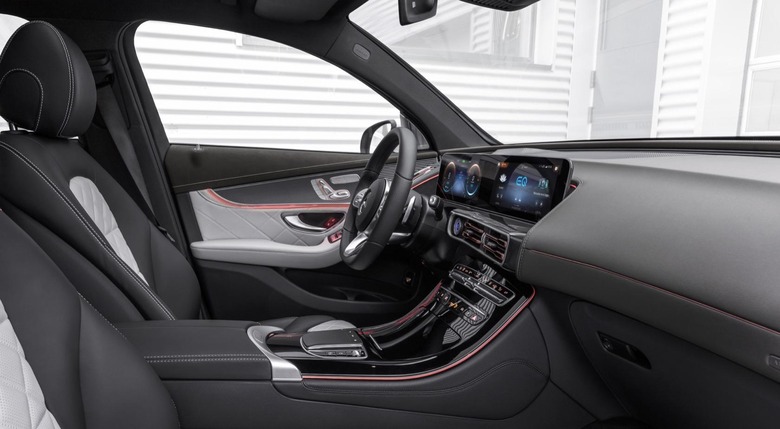 Just as important, though, will be one-pedal driving: avoiding having to use the brakes, as lifting off the accelerator will automatically bring in regenerative braking. There'll be different levels of braking recuperation, controlled by the paddles behind the steering wheel which, on a gasoline car, would control the transmission.
The two paddles will switch between D Auto – which automatically chooses recuperation level – through D+ for coasting, D for low recuperation, D- for medium recuperation, and D– for high recuperation. ECO Assist, meanwhile, will use navigation data, traffic sign recognition, and observations from the stereo cameras and radar to advise the driver when to lift off the accelerator for maximum efficiency.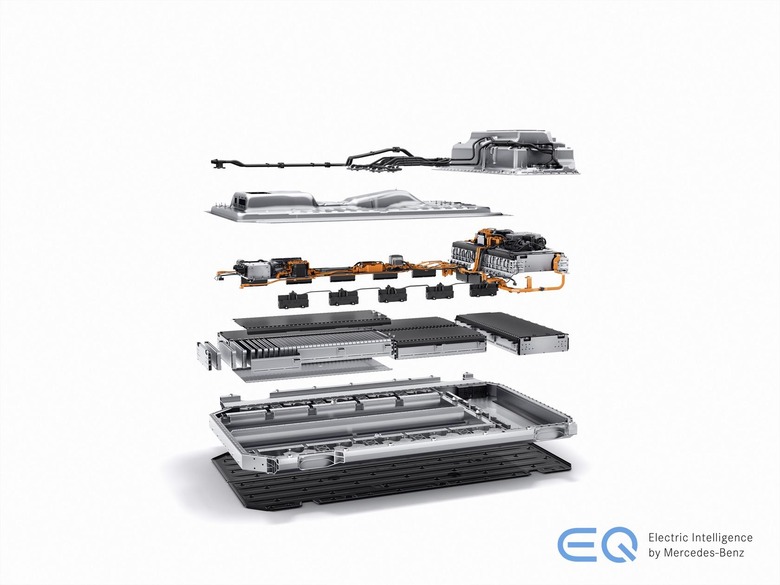 For example, if you're approaching a downhill gradient, the EQC will advise you to lift off and automatically switch into coasting until it can start recuperating. It'll switch between the two so as to maintain the speed limit. For an uphill gradient, the same thing happens, with the car guiding the driver when to lift off the accelerator.
As for the cabin, that promises a more avant-garde look than Mercedes' usual, too. The dashboard is more pared-back than normal, with the upper section cut down and using an asymmetrical wing profile. Into that is set a new HVAC section, with key-shaped, rose-gold colored louvers and rectangular vents.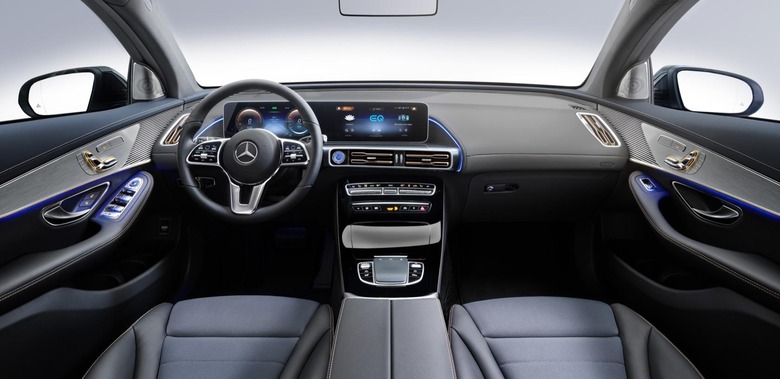 The shape is echoed elsewhere, while twin 10.25-inch displays sit atop – one for the driver's instrumentation, the other for the rest of the systems – controlled by a touchpad in the center console or by voice. A Burmester Sound System is optional, as is 64-color ambient lighting. As you'd expect, there's plenty of leather, aluminum, and natural grain wood, though the automaker says it's been given a special EQ twist. It's also accompanied by a textile-like structure in metallic silver grey with rose-gold highlights.
AMG Line Exterior and AMG Line Interior packages will tweak both the outside and the inside of the car. They include things like new bumper and wheel styles, giving the EQC a more sporting look. There's also a three-spoke AMG sport steering wheel, and seats in black MB Tex leather and Dinamica microfiber, with leather and carbon fiber trim optional.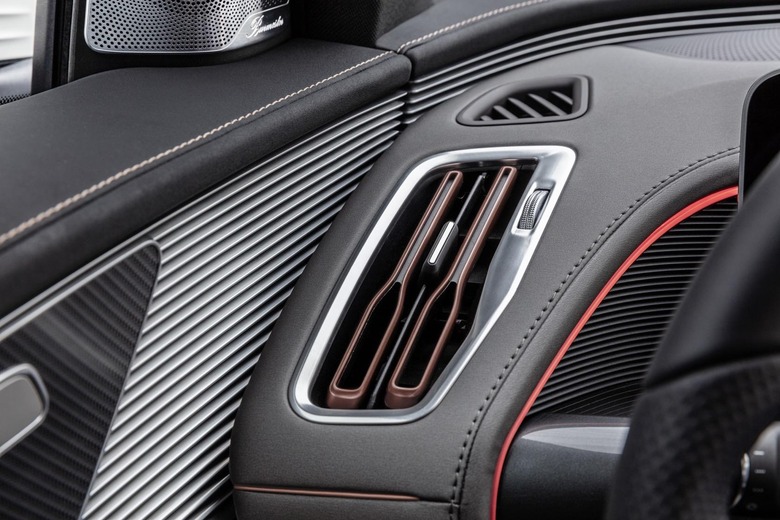 Either way, there's the new MBUX infotainment system to be found. That can be switched between three different themes, each of which have EQ-specific information and screens. It's from there that you can see charging status, energy flow, and consumption charts, as well as adjust the EQ-optimized navigation and charging and HVAC schedules.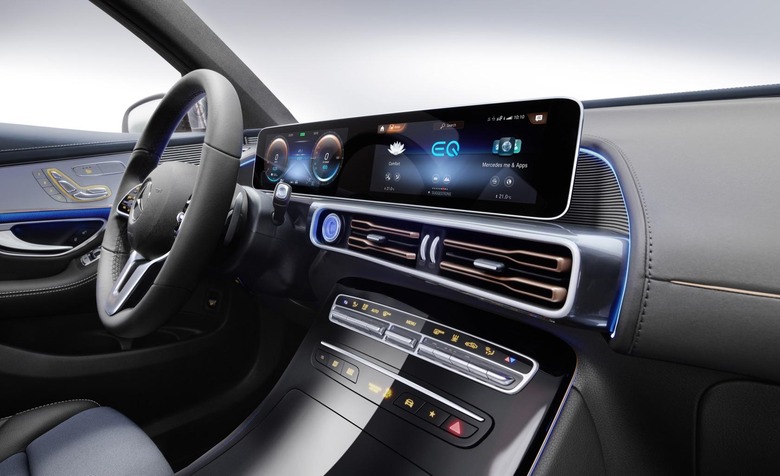 As in other cars, MBUX promises to learn from your usage habits – always calling a certain contact at a certain time, and thus offering up that contact proactively – and regular routes. There's also natural speech recognition using the "Hey Mercedes" voice trigger. For the 2020 EQC that gains electric-specific commands like "Where is the next charging station?" and "I want the car ready at 8am" which will automatically have the maximum charge and cabin climate control ready for that departure time.
Navigation, too, has been given an EQ upgrade. There's intelligent routing to take in a charging point if required, including accommodating partial-charges; you can set that either in the car or remotely, using the Mercedes me app. Mercedes me Charge supports integrated payments for charging, too, reducing the amount of swiping or manual authenticating at each charger station.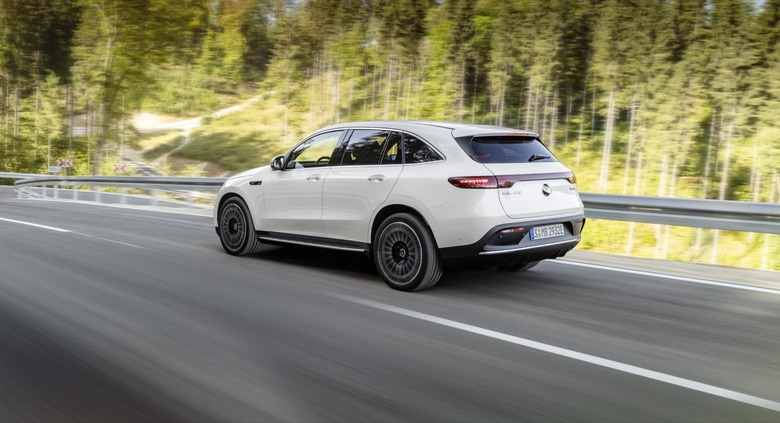 Just as you'd expect, Mercedes is using the EQC as a showcase for its safety and assistance technology. There's Active Brake Assist as standard, while the Driver Assistance Package adds evasive steering assist, Pre-Safe Plus for rear crashes, blind-spot assistance with warnings if you're about to open the door into a car or cyclist, and more.
The result, the automaker insists, is not just a battery-powered car but "the Mercedes-Benz among electric vehicles." Clearly, it's counting on badge prestige to elevate the 2020 EQC above rivals; price will undoubtedly play a significant role, too, though that won't be announced until closer to the crossover's arrival in dealerships.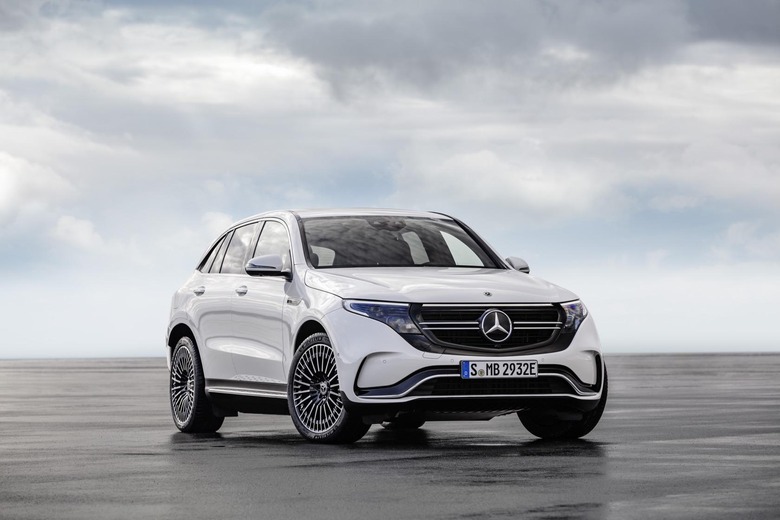 Production kicks off in 2019 at the Mercedes-Benz plant in Bremen, alongside several other models in the automaker's range. That, it argues, offers maximum flexibility: if EQC demand surges, it'll be able to assign more production capacity and ramp up quickly. Considering the bottlenecks around popular models that we've seen at Tesla, that's an issue worth considering early.
Only time will tell just how well the 2020 EQC 400 4MATIC is received. With more than a year until it's expected to arrive in US dealerships, there's no shortage of time for the I-PACE, e-tron quattro, and other all-electric cars to carve out their space in the market. Nonetheless, it's a big investment by Mercedes, and the EQC is only the first of a whole family of electric cars that the automaker is working on. Whatever happens, we're guaranteed of interesting times in the auto industry, and in electrification specifically.