Mercedes-AMG GT four-door coupe spied before Geneva debut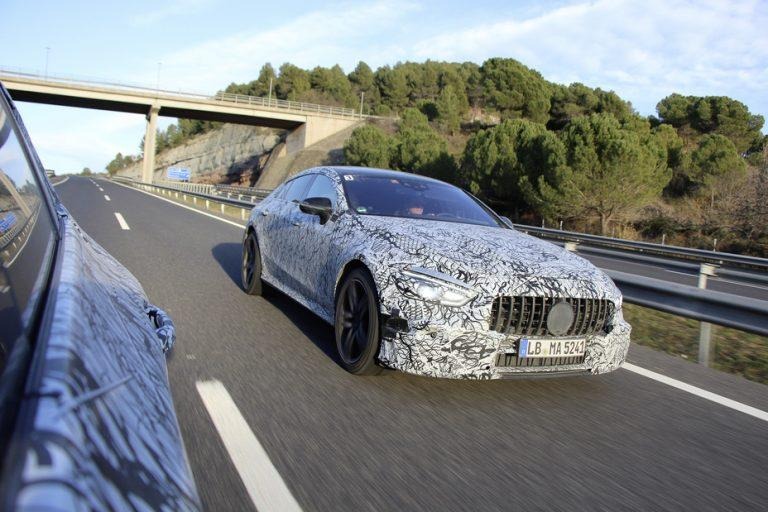 At the Geneva Motor Show last year, Mercedes-AMG wowed everyone with its impressive GT Concept. Now, this year's show — less than a month away — will see the debut of the real thing: Mercedes' latest take on blurring the line between a performance sedan and a so-called four-door coupe. To help build anticipation, a set of spy-themed photos of the four-door GT have been released, complete with camouflage.
Seeing as how Mercedes has released these photos themselves, they're hardly "real" spy photos, but they still do the job of teasing the new AMG GT, showing some road tests in action. The camouflage does nothing to hide the fact that this is clearly a Mercedes-AMG vehicle, and along with clear looks at the four doors, details like the quad tailpipes can be spotted.
It's also nice to see the GT Concept's aggressive design has remained largely intact, with the lines of the overall profile, including the window shapes, appearing almost identical. The front grille has been slightly altered, with the large vent holes nowhere to be seen, and the flashy chrome wheels of the concept have been replaced with a standard five-spoke set.
Unfortunately Mercedes' tease offers no solid details about the four-door GT, leaving us all wonder what's really under the hood. While last year's concept featured an impressive hybrid powertrain, combining an electric engine with a 4.0-liter twin-turbo V8 to produce 805 horsepower, the production version is widely expected to rely solely on the V8.
There's still a chance AMG could release a top-of-the-line hybrid model down the line, but we'll have to wait until the 2018 Geneva Motor Show begins on March 6th to find out more.
SOURCE Mercedes-Benz