Mercedes-AMG and Cigarette Racing unveil Project ONE inspired racing boat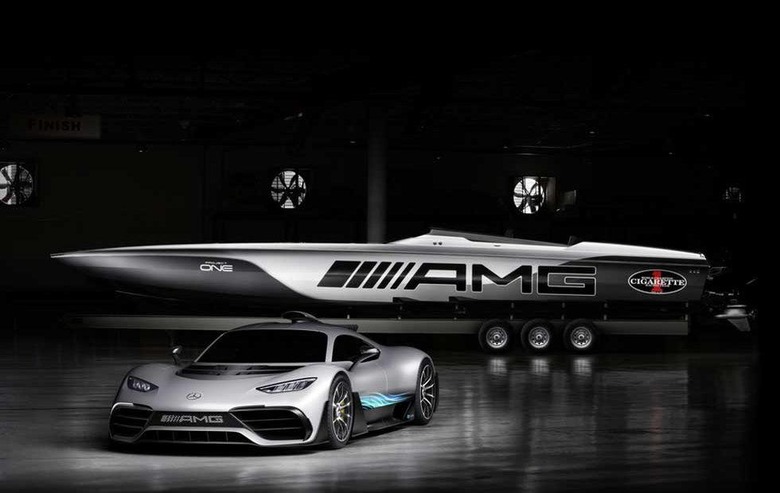 Mercedes-AMG and Cigarette Racing have announced a tie-up that celebrates 11 years of working together that was teased a few days back. The tie-up has resulted in the Cigarette Racing 515 Project ONE. The racing boat was inspired by the Mercedes-AMG Project ONE super sports car.
The 515 Project One is 51'5" in length and has a beam of 9'6" allowing six passengers to be seated on the boat. The boat has 30% greater surface area compared to the 50' Marauder yet the 515 Project One can reach 140mph top speed thanks to an optimized composite structure made of Kevlar and E-glass.
The deck is made of carbon fiber to reduce overall weight and the inner structural laminate of the hull, forward bulkheads, cabin liner, engine hatch, consoles, and storage hatches are carbon fiber. The 7' long and 14-inch wide air intakes are only 4.4 pounds each.
The boat has a pair of Mercury Racing 1,350/1,550 Qc4v engines and M8 stern drives. Those engines make up to 3,100 hp. The engine turning can be changed using a key fob with the Race Key fob unlocking up to 1,550 hp and requiring race fuel. The Pleasure key fob limits power to 1,350 hp and runs on 91 octane fuel.
The Mercedes-AMG Project ONE hypercar is meant to bring F1 tech to the streets with a 1.6L V6 hybrid gas engine that uses a turbo and aims to make over 1,000hp. The engine will spin to 11,000 rpm and push the car to 217mph.
SOURCE: Mercedes