Mercedes' A-Class L Sedan gives China preview of luxe 4-door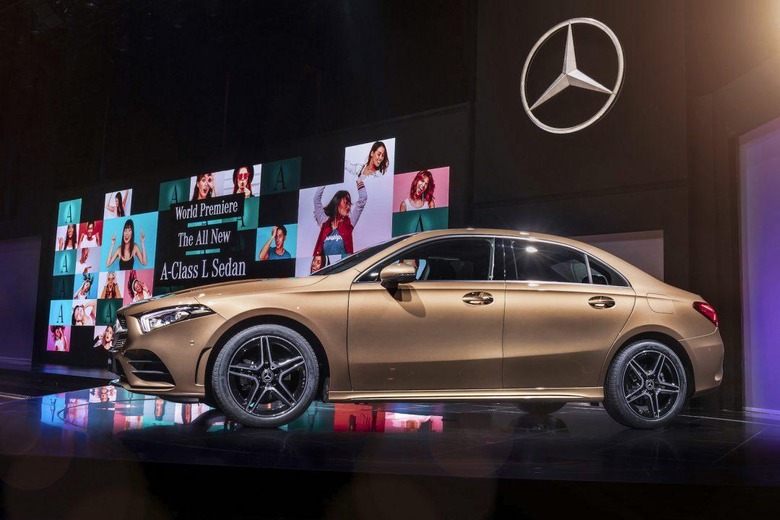 Mercedes had shown us its punchy little 2019 A-Class Hatchback, and now it's the turn for the sedan version of the car, though this is no ordinary four-door. Making its debut at Auto China in Beijing this week, the A-Class L Sedan adds almost 2.4-inches more space to the wheelbase, contributing to extra room for those in the back seats.
The automaker is saying it's the only long wheelbase model in the "premium compact car" segment, in fact. It keeps the front of the hatchback version, with short overhangs and a drawn-out, long hood. The diamond radiator grille has a pared-back louver design, studded with chrome pins and centered around the Mercedes star.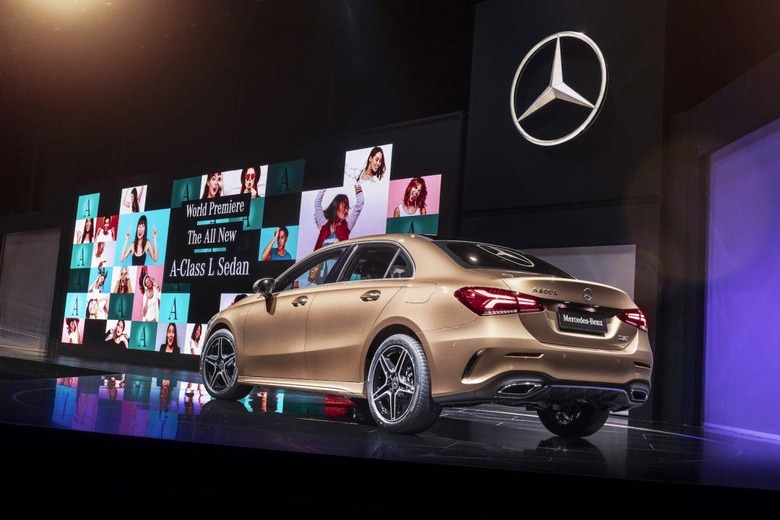 Sedan and Sport Sedan variants will be offered, the latter getting swollen powerdomes in the hood. Up to 19-inch wheels will be offered, while at the rear there are two-piece tail lamps that Mercedes says help emphasize the width of the car. A redesigned bumper puts the reflectors lower down, doubling-down on the car's stance.
Inside, meanwhile, the hatchback's new design is carried over. The upper cockpit cowl has been dispensed with, leaving the wing-shaped main body of the dashboard extending uninterrupted from one door to the other. Ambient lighting can switch between 64 different LED colors, while the free-standing display sits atop turbine-style air vents.
Mercedes' MBUX multimedia experience has been included, unsurprisingly, with support for multiple users to connect their smartphones simultaneously. The A-Class L Sedan's voice control supports not only natural language recognition, rather than forcing drivers to memorize specific commands and instructions, but is now capable of handling multiple Chinese dialects, including Sichuanese and Cantonese. It also get augmented reality navigation.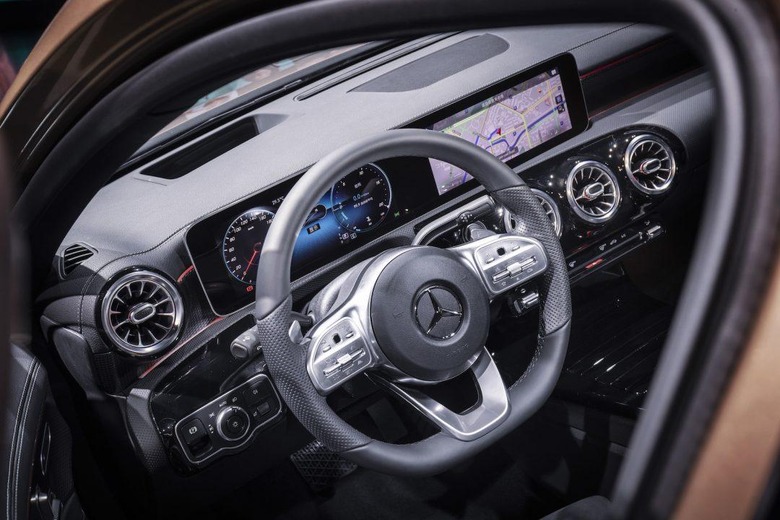 Under the hood there's be a single engine at launch, though with two levels of tuning. That's a four-cylinder 1.33-liter, with a choice of 134 horsepower or 161 horsepower; either way it's paired with a 7G-DCT dual clutch transmission. Later on, Mercedes will add a 2.0-liter, four-cylinder engine with variable valve timing, tuned for 188 horsepower.
As for technology, the A-Class L Sedan will borrow liberally from the S-Class and E-Class above it. That includes active driver assistance and Active Distance Assist DISTRONIC, Mercedes' adaptive cruise control system which can adjust its speed depending on what bends and junctions are approaching in the road ahead. Active Lane Change Assist is also expected to be available, the car automatically switching lanes when you tap the indicator stalk.
Now, it's worth noting that the A-Class L Sedan will only be produced for China, where extra rear seat space is particularly prized in luxury vehicles. However there'll be another version of the sedan – presumably with more typical proportions – for other markets globally, Mercedes says. That will be revealed in the second half of 2018, the same time as the 2019 A-Class L Sedan – pricing to be confirmed – arrives in Chinese dealerships.