Memoto lifelogger renamed Narrative Clip ahead of Nov 1st release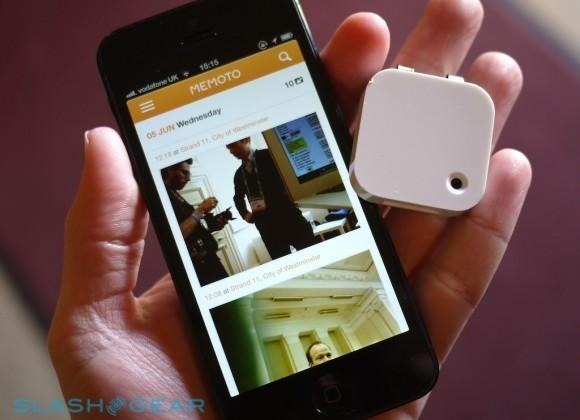 Lifelogging camera and Kickstarter success Memoto has rebranded to Narrative, with its freshly-named Narrative Clip wearable set to begin shipping from November 1st. The startup was forced to change its name after being notified it "conflicts with a similar name in the market", opting for Narrative instead as the camera silently records life stories. Meanwhile, any disappointment at the last-minute switch is likely eased with news of a $3m funding round led by True Ventures, which previously backed MakerBot and Fitbit.
Narrative's hardware is a tiny, clip-on camera which fires off a photo every thirty seconds through the day. Each image is geotagged with its physical location, and a custom app sifts the thousands of shots and automatically sorts them into "moments" according to where you were, who you were with, and other factors.
The Narrative team had expected to have the camera on the market already, but the challenges in packing a 5-megapixel camera, GPS, an accelerometer, and storage space for up to 4,000 photos (along with a battery to match) into a 36 x 36 x 9 mm form-factor turned out to be more considerable than predicted. When we caught up with company co-founder Martin Källström back in June, he explained that the compact dimensions meant the engineers had to redesign effectively everything in order to accommodate it in the shell.
Narrative Clip hands-on:
At nine months behind the initial, ambitious schedule, the Narrative Clip has certainly kept its Kickstarter backers waiting. Yet at the same time Källström and the company has used the crowdsourcing platform adroitly to manage expectations: weekly updates on the state of development, and greater-than-usual transparency into the challenges of bringing a new hardware product to market, have kept customers in the loop with where their camera is.
"We're looking forward to moving into this new stage of our company's history with a fresh, new face for the brand and a financing round that will help to ensure a successful upcoming product launch" Källström said of today's news.
The company is yet to say exactly what it will use the $3m for, though the CEO was clear when we talked to him that Narrative sees a future in far more than just one product. "We want to build a company, a brand, a business for the long-term" Källström explained, with potential for integration with third-party wearables such as Fitbit and UP, as well as other devices and services.
If you didn't get in on the Kickstarter last year, Narrative Clip is up for preorder now, priced at $279 including a year's cloud storage.