Memorex MyVideo & MyVideo HD camcorders squeeze into crowded market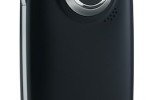 Memorex obviously reckon there's a gap in the market – seriously, where? – for yet another point-and-shoot camcorder, and so they've announced not one but two of the little devils.  Looking somewhat curvier than what's on offer from Flip, Creative and Kodak, the Memorex MyVideo (MCC221) and Memorex MyVideo HD (MCC225) each offer an integrated USB port, digital zoom and 2-inch LCD display, with the MyVideo capturing up to 2hrs of VGA quality footage to its 2GB of internal storage, while the MyVideo has 4GB for up to 1hr of presumably 720p video.
Each also grabs still shots – the MyVideo at VGA resolution, the MyVideo HD at a presumably interpolated 5-mexapixels – and has onboard software to make uploading to Flickr, YouTube and other sites straightforward.  Memorex quote up to 5hrs of battery life for the low-res model and half that for the HD version.
The HD camcorder also has an HDMI port and comes with an HDMI cable in the box.  The Memorex MyVideo and MyVideo HD camcorders are available to buy now, priced at $99.99 and $129.99 respectively.
Press Release:
Memorex MyVideo™ Camcorders Capture and Share Life's Meaningful Moments

Pocket-sized camcorders offer easy uploading and web sharing

OAKDALE, Minn.–(BUSINESS WIRE)–Zoom in on life's moments before they zoom out. Memorex, a portfolio brand of Imation Corp. (NYSE: IMN), announces the release of the Memorex MyVideo™ and MyVideo HD camcorders—stylish pocket camcorders designed to capture life's impromptu moments.

"MyVideo camcorders offer families an easy way to record, view and share, not only special occasions, but also the little moments that happen in everyday life," says Jessica Walton, Memorex global brand manager. "Whether you want to record your child's holiday recital or capture an impromptu dance party at home, MyVideo camcorders are simple to use and fit perfectly into a pocket or purse."

With integrated USB ports, MyVideo camcorders feature one-touch recording, editing software, and easy uploading and sharing to websites like Facebook and YouTube. The camcorders also offer instant playback to TV—no PC uploading required—and the ability to capture photos and video. For the best viewing experience, the MyVideo HD model also includes a full-size HDMI port and cable.

Pricing and Availability

Available in black or pearlized white (colors vary by model), select models of the Memorex MyVideo camcorders are now available in select Toys "R" Us and OfficeMax stores for the suggested retail price of $99.99 to $129.99.

About Memorex

Memorex is one of the most trusted and recognized consumer brands in modern marketing history. A portfolio brand of Imation Corp. (NYSE: IMN), Memorex is the North American market- share leader in optical media and media accessories in retail and one of the best-known names in the consumer electronics industry. Memorex reaches into millions of homes with home audio and video products, MP3 players, iPod® accessories, and LCD televisions that are stylish and simple in form and function. For more information about Memorex, please visit www.memorex.com.