Meizu PRO 6 last minute leak leaves nothing to imagination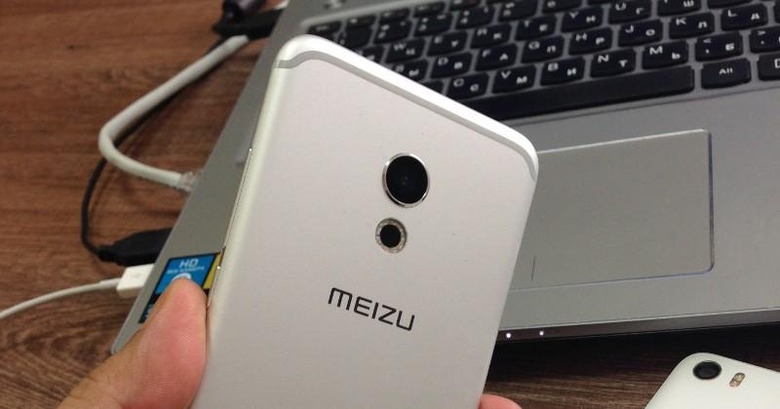 On April 13, it will be Meizu's turn to reveal is 2016 contender, after both Xiaomi and OPPO have unveiled theirs. Though we're just a few hours away, we still have a lot of time for last minute leaks and confirmations. And with this latest batch of photos of the device as well as screenshots of benchmarking apps, the Meizu PRO 6 has pretty much been unboxed before our very eyes. And while the smartphone may have some beefy specs inside, the design outside might not win much favor.
When "officially" teasing the PRO 6, Meizu CEO Zhang Huang promised that the angle of the shot made the smartphone look thicker than it actually is. But based on all the angles from this alleged Meizu PRO 6 in the wild, those first impression might actually be spot on. The smartphone definitely looks thick, but we'll need a proper side by side to determine by how much. One interesting design feature are the areas where the antenna's are supposed to be. Here, they are hidden in the strip of plastic that curve all the sway from one side edge to the other in a single stroke. Interesting because this might be the same design that Apple will be implementing for the iPhone 7.
Inside, the Meizu PRO 6 is supposedly a beast, at least as far as non-Qualcomm or non-Exynos devices are concerned. Inside is found the MT6797T, also known as the MediaTek Helio X25, the higher clocked version of the deca-core Helio X20. AnTuTu score is shown to be 91165. While high, based on AnTuTu's latest summary, it still falls well below the iPhone 6s Plus' Apple A9, nearly tying with the Huawei Mate 8 and its Kirin 950 chip. The MediaTek processor is paired with a copious 4 GB of RAM, with 32 GB of storage. The presence of a microSD card slot hasn't been confirmed yet.
The display will perhaps be the biggest disappoint, both in design and function. Perhaps it was too much to dream of those curves on all four edges, but it is perhaps reasonable to expect some advancement in resolution, not a 5.2-inch still Full HD panel. Then again, the Xiaomi Mi 5 didn't make the 2K jump either. Perhaps these manufacturers decided to cut their corners there instead of some other feature. On the bright side, the device will supposedly feature technology similar to 3D Touch but only for Meizu's own apps.
The Chinese OEM plans to unveil the Meizu PRO 6 tomorrow and it remains to be seen whether the company has more to offer to differentiate the smartphone from its fiercest rivals.
VIA: Mobitelefun.ru