Megaupload CEO raid captures 18 luxurious cars and one motorcycle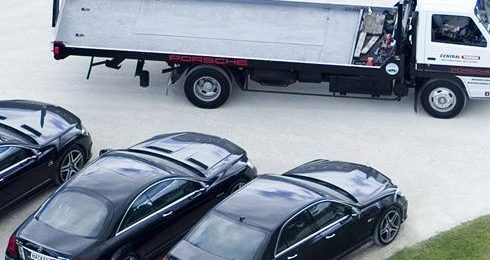 When you're the kingpin of Megaupload and your name is Kim Dotcom, it's not hard to think that it's a good idea to purchase a lot of fancy electronics so you can look awesome when posting yourself sitting in your basement hacking away – but when you've gone beyond hackerdom, there's something else you'll end up purchasing: fabulous automobiles. That's what Dotcom did, and as his Megaupload and other internet-based ventures grew, he amassed what's been revealed today as a king's ransom worth of luxury cars. Amongst these were Rolls-Royce, Maserati, and 16 more in autos dating from 2012 all the way back to 1959.
This month the Megaupload owner and several of his colleagues were arrested and what his prosecutors call a $175 million USD worldwide internet piracy operation was shut down indefinitely. Yesterday he was brought before a New Zealand court after having been taken from a grand jury in U.S. District Court in Virginia. It's also in New Zealand that the raids are going on now, his $23 million dollar home, one of New Zealand's most expensive, being emptied of cars, cars, and more cars.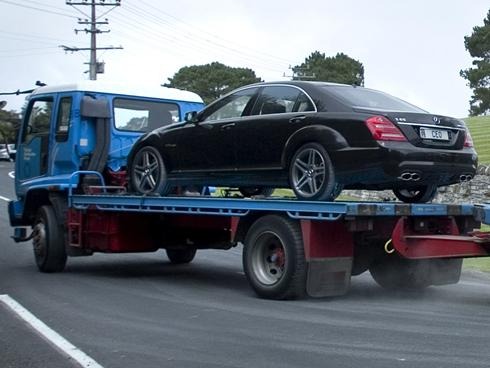 In the collection, for those of you wondering, were such fabulous vehicles as a 2008 Rolls-Royce Phantom Drophead Coup, a 1959 Cadillac convertible, and a lovely Von Dutch Kustom motorcycle. About a dozen high-end Mercedes AMG models were also included in the stash, each of these vehicles having its own vanity license plate. The plates included such gems as EVIL, GOOD, GOD, STONED, MAFIA, CEO, HACKER, and of course, GUILTY.
This should act as a warning, all you would-be kingpins of piracy out there, that your cars are going to get stolen by the police. There's no way they wont be, just accept it, and check our timeline for the rest of the Megaupload story.
[via USAtoday]