Meet EVE, NIO's vision of its 2020 autonomous electric car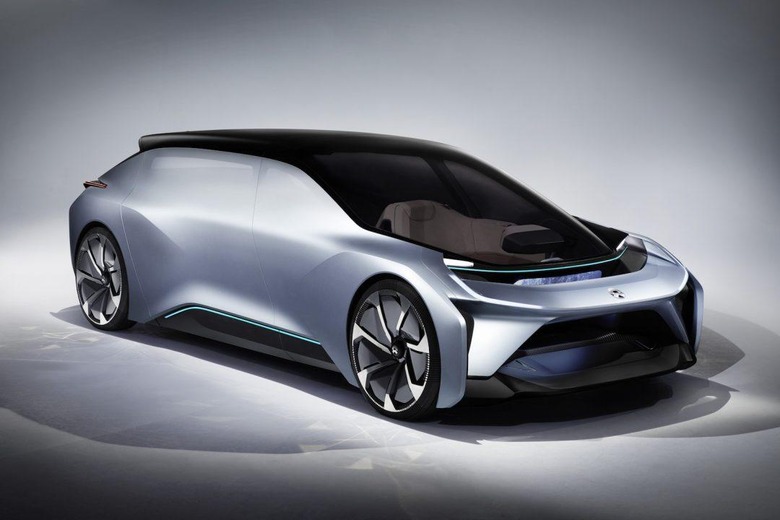 First NIO wowed us with its ridiculously fast electric supercar, now the EV startup is promising to have its own self-driving vehicles on sale in the US by 2020. The company – fledgling automotive arm of NextEV, the Chinese firm already known for its Formula E racing team – has taken the wraps off its NIO EVE autonomous prototype today. Dubbed a "vision car" by NIO, it's apparently intended to give us some hints of what we could expect in just a few years time.
As per many of the self-driving concepts we've seen in recent years, with the actual driving delegated to a computer there's more time for lounging. In NIO's case, EVE does away with A and B pillars and replaces front and back doors with a single, sliding door. That motors forward, allowing up to six passengers to access the two rows of seats inside.
In the front, there's a panoramic view through the expansive windshield, the glass of which extends up above the occupants' heads similar to in Tesla's Model X. As well as a wide-aspect display in the dashboard itself, digital displays are projected onto the glass. When the car is being manually piloted, that can be used to show speed and other information. When EVE is driving itself, the car can flag points of interest and time-to-destination across the glass.
Back in the rear seats, however, there's a folding table, while one chair unfolds as a full ottoman for lounging. NIO says it's cooking up an autonomous artificial intelligence, dubbed NOMI, which uses a combination of augmented reality and speech to interact with passengers. It also promises to learn from frequent trips so as to cut out the amount of active directions required.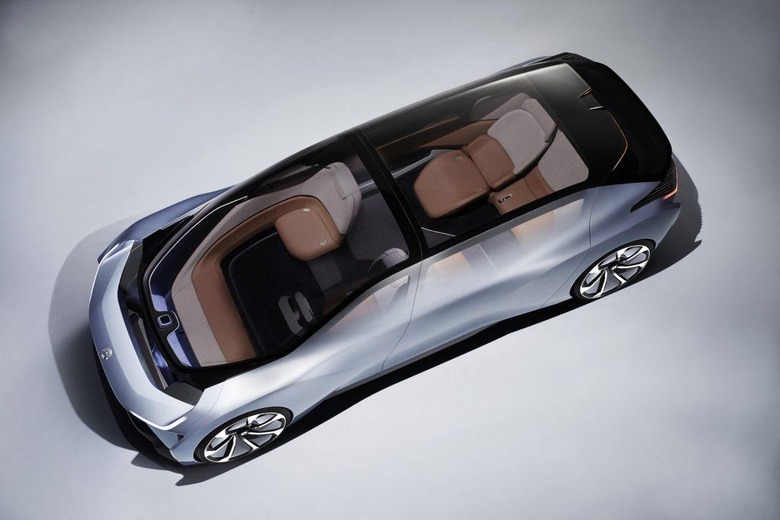 Perhaps unsurprisingly, despite NIO's ambitious 2020 schedule the technical details of the autonomous car are in fairly short supply. NIO says it envisages V2V (vehicle to vehicle) communication being used to allow cars to intercommunicate, and even organize themselves into swarms. That would allow congestion to be reported and routed around intelligently, but also multiple EVE vehicles to form into platoons that would be more efficient overall.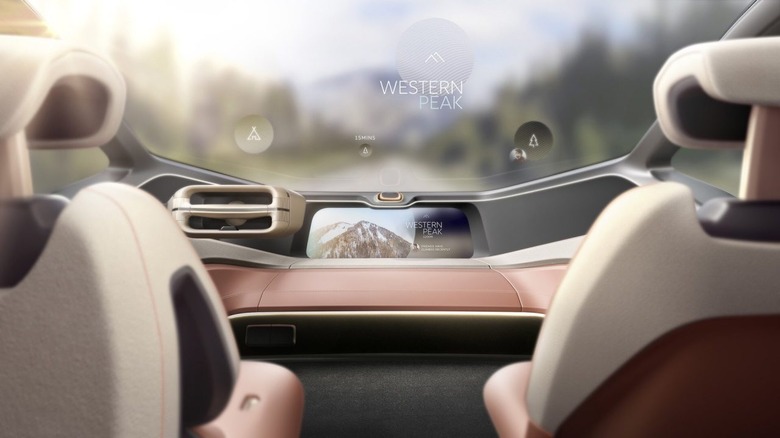 Still, even though EVE may not be detailed, it's clear that NIO has some powertrain know-how. Back in November it put its EP9 supercar onto the infamous Nürburgring and took away a "fastest electric car in the world" record in the process. EVE – or whatever autonomous production vehicle NIO has in mind for 2020 – probably won't have the 1,340 horsepower of the EP9 (or, indeed, match its 2.7 second 0-62 mph time), but if electric cars have demonstrated anything over the past few years it's that they're no slouch even in comparison to the best of the gas-guzzlers.
Until then, NIO has its own Autonomous Vehicle Testing Permit from the California DMV, and will be putting NOMI technology through its paces on public roads. The company also confirmed today that it is working with Mobileye, NVIDIA, and NXP on its technology.