MeeGo Gets Serious: Wistron, Quanta & CZC Tablets Spied [Video]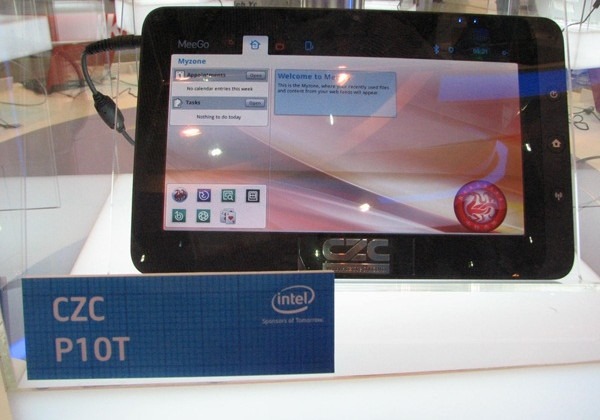 Intel are going full steam ahead with MeeGo at Computex this week, with multiple name-checks for the open-source OS during the keynote and several manufacturers implicated in pushing out MeeGo-based devices.  In among the Oak Trail/Canoe Lake information was confirmation that Acer will be developing MeeGo tablets and netbooks, while there are brief details on Quanta's Redvale MeeGo tablet, together with the Wistron W1 and CZC P10T tablets spotted by Carrypad on show at the Intel booth.
Demo video after the cut
"Acer will be ready with MeeGo-based mobile devices. MeeGo's open software platform will present our customers with another choice of a friendly, easy-to-use operating system. We are pleased to collaborate with Intel in our continuous drive to provide effortless technologies that empower people at work, home – anytime, anywhere" Gianfranco Lanci, CEO, Acer
Exact hardware details are in short supply right now.  Still, the Wistron W1 is confirmed to be running Moorestown – as announced last month, rather than the newer Atom platforms launched this week – and we're guessing they'll all have lashings of wireless.
Meanwhile Linpus Technologies are working on Linpus Lite Slate Edition, a MeeGo based OS which would make the platform even more finger-friendly for touchscreen-only devices, adding in various touch-optimized apps (including mail, calendar, contacts and multimedia), together with Google and LBS apps.  No word on when it will see a public release, however.