Media Xtreme fuel-cell charger on sale at T-Mobile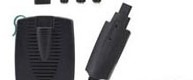 T-Mobile are offering a fuel-cell portable power pack as an accessory for their cellphone range, one of the first mainstream fuel-cell applications targeted at everyday consumers.  The Medis 24/7 Xtreme Portable Power Solution runs on sealed cartridges of sodium borohydride, and can offer 20 Watt-hours from a single cartridge.
Each cell lasts up to 18 months unused, and is activated merely by squeezing it and slotting it into the charger device.  Once activated, the cell should last for up to 3 months, though Medis recommend using it within six weeks.
T-Mobile bundle the fuel-cell with various charging tips, to suit different cellphones and smartphones, and other adapters are available separately.  The Medis Xtreme Portable Fuel Cell Charger is available now, priced at $24.99.
Press Release:
T-MOBILE WILL OFFER MEDIS 24/7 XTREME™ FUEL CELL PORTABLE POWER SOLUTION
"Mobilize with T-Mobile for a Greener Planet"

NEW YORK, NY (October 21, 2009) . . . . Medis Technologies Ltd. (Pink Sheets: MDTL) announced that its 24/7 Xtreme Portable Power Solution will be offered by T-Mobile on its new microsite at www.mobilizewitht-mobile.com. The site is a pure-green site where a visitor can learn about green initiatives, or buy a T-Mobile product or accessory. You can even have a tree planted to help slow down climate change. In addition, the product can also be found in the accessories section of the main T-Mobile website at http://www.tmobile.com/shop/addons/Accessories/AccLanding.aspx.

Medis CEO Jose Mejia commented, "This T-Mobile site is the most appropriate place yet for Xtreme – because the products are pure green, probably the greenest energy source on Planet Earth. The Xtreme Portable Power Solution is essential when you need to charge your phone and are away from a traditional electric outlet—it is great for the airport when there are no outlets available, or when working outdoors, or hiking, camping, boating, biking—the possibilities are endless."

Mejia continued, "The best part is that our electricity is generated without emitting elements harmful to the environment, such as carbon or carbon dioxide, and without any heavy metals. There are no emissions and no measurable heat generated. Fresh green electricity can be made available when and where you need it – under any climatic conditions. We are very pleased to have been chosen for T-Mobile's green site."

The Xtreme Portable Power Solution contains the world's first personal fuel cell power system that delivers mobile phone power when a user needs it most. Based on the Medis Direct Liquid Fuel Cell Technology, Xtreme delivers instant emergency power to portable devices without batteries or pre-charging. Xtreme can power a mobile phone, or a MP3 player for many days when grid power is not available, and when batteries have given up or faded out.

Xtreme products are easily recyclable, contain no toxic or hazardous substances, and are allowed onboard airplanes by the TSA. They comply with the Department of Homeland Security's "Resolve to be Ready 2009" campaign.

For more information about Medis Technologies and its fuel-cell-powered products, please visit www.medistechnologies.com.