Media Player Concept Uses Flashlight-Like Barrel Projector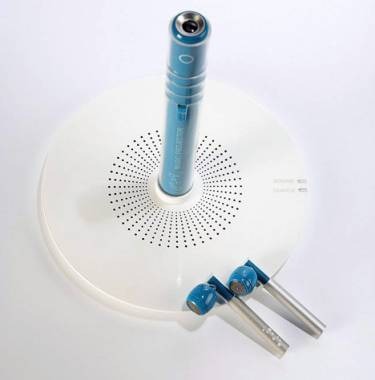 Building compact projectors into portable devices so that you can conjure up a big screen rather than squint at a small one is not a new idea – in fact cellphones using the technology are meant to be hitting the market soon – but there's still plenty of room for enterprising designers to whip up concepts based on the idea of carrying a huge display in a tiny package.  Can-Hong Huang is one such designer who has come up with this: the I Shine A media player.
Looking quite a lot like a flashlight, what appears to be a bulb is in fact the lens for the projector.  Rotating sections of the barrel navigates through menus and handles in-film control, while audio is funnelled to your ears via a neat pair of wireless stereo headphones.
Alternatively, you can use it in the dock, which has built in speakers for communal enjoyment.  Sadly it's just a concept, with no plans for commercial release.
Yanko Design [via electro^plankton]