McLaren's epic 720S Spider gets MSO makeover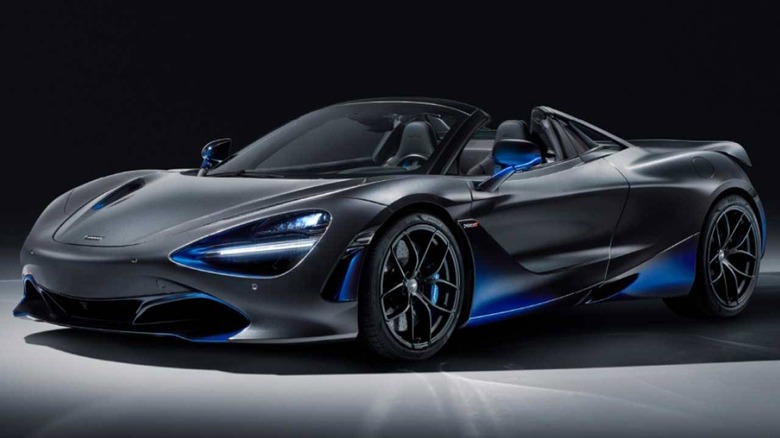 Mclaren's cars are already sexy and fast, but when MSO gets hands on the "normal" McLaren cars, even better things happen. The customized McLaren 720S Spider by MSO is a beautiful car swathed in a blend three different MSO metallic colors. MSO created a color called Coriolis, which is a blend of Cerulean Blue, Burton Blue, and Abyss Black.
The color was used to accentuate the aerodynamic elements of the car like the front splitter, lower door panels, lower side intake panels, and rear bumpers. MSO says that the Coriolis paint blend took 260 hours to apply alone because of its complexity.
The blue color is applied to only certain parts of the car and fades expertly into the main body color called Meteorite Gray, itself a bespoke MSO color developed just for this design theme. The car also has an MSO Defined Gloss Carbon Fiber Tonneau cover along with the Stealth Pack and Sports exhaust.
The glass roof of the car is Electrochromic glass. Inside the car is trimmed with Burton Blue Alcantara and jet black leather. Lots of carbon fiber bits are found inside the car. Other than the fancy style of the car, it is a standard 720S Spider underneath.
We had a chance to drive the standard version of the car recently, and it's an impressive ride. The vehicle has a 4.0L twin-turbo V8 engine that makes 710hp and 568 lb-ft of torque. It can hit 124 mph in 7.8 seconds after trouncing 60 mph in 2.8-seconds. Pricing for the standard 720S Spider is over $315,000, how much more this MSO version would cost is unknown.