McLaren Ultimate Vision GT is a 1134hp hybrid virtual beast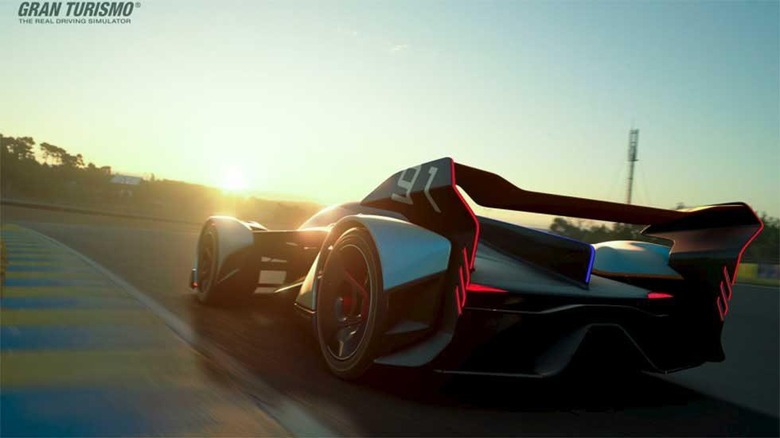 Car fans and gamers have been thrilled at the fact that real world automotive manufacturers have flocked to Gran Turismo with their cars letting us drive them in the game. They also make exclusive virtual racers that we can flog around virtual race tracks with the Vision GT cars. The latest of these virtual racers comes from McLaren and it's a doozie.
The car is called the McLaren Ultimate Vision Gran Turismo. It has some serious horsepower with a combined output of 1,134 hp and 940 lb-ft of torque. That power comes thanks to a twin-turbo 4.0L V8 engine for the rear wheels and a pair of electric motors for the front wheels.
That might not sound like all the power, but consider the virtual racer uses lots of virtual carbon fiber and it weighs in at 2,200 pounds. That is lighter than a Mazda Miata with about 1,000 more horses. McLaren says the car has inboard carbon fiber brakes. McLaren also uses fancy aero tech on its virtual racer to open and close holes near inlets to adjust drag and downforce for speed on straights and handling in corners.
One of the oddest things about McLaren's offering is that it has a prone seating position. McLaren says that this seating position is "motorcycle-like" and is combined with a large glass windscreen for lots of visibility. It's hard to tell in the interior shot, but the driver is lying on his stomach. It seems to me that driving position would be a pain in the neck.
McLaren's sweet racer will be featured in Gran Turismo Sport for the PS4. The game goes on sale on October 17. Perhaps the coolest of these virtual race cars designed specifically for Gran Turismo came from Bugatti back in 2015. The car was called the Bugatti Vision Gran Turismo and if it wasn't cool enough inside the video game, Bugatti engineers actually built a life-size version of it and brought the beast on the auto show circuit.
SOURCE: Autoblog