McLaren Speedtail official: 250mph hybrid Hyper-GT with outrageous carbon fiber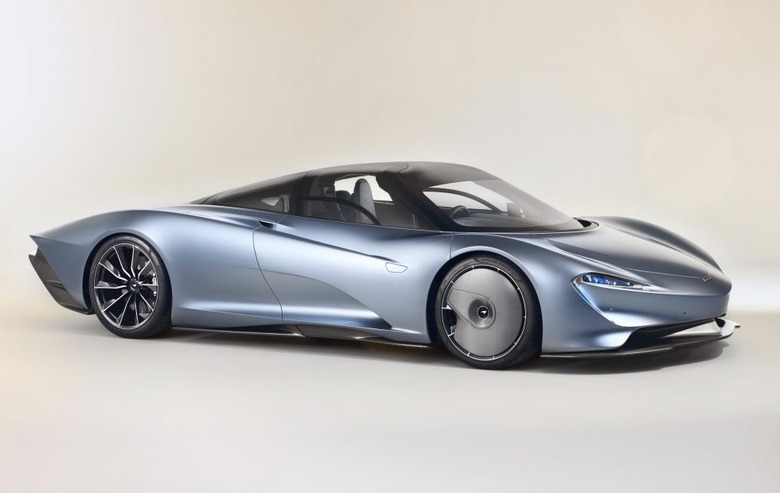 The McLaren Speedtail has been officially revealed, and if you were hoping for a 250 mph hybrid with mutating carbon-fiber bodywork and a lavish leather interior, you'll be mighty pleased with this new British beast. Dubbed the automaker's first "Hyper-GT" it's designed with two things in mind: going incredibly fast, without sacrificing any luxury. Turns out, when you have some very deep-pocketed customers, and some very talented engineers, you can produce a car that's frankly astonishing.
It's the latest in the McLaren Ultimate Series, and with forebears including the P1 and Sienna, it always had a lot to live up to. As a result, the Speedtail is a catalog of superlatives.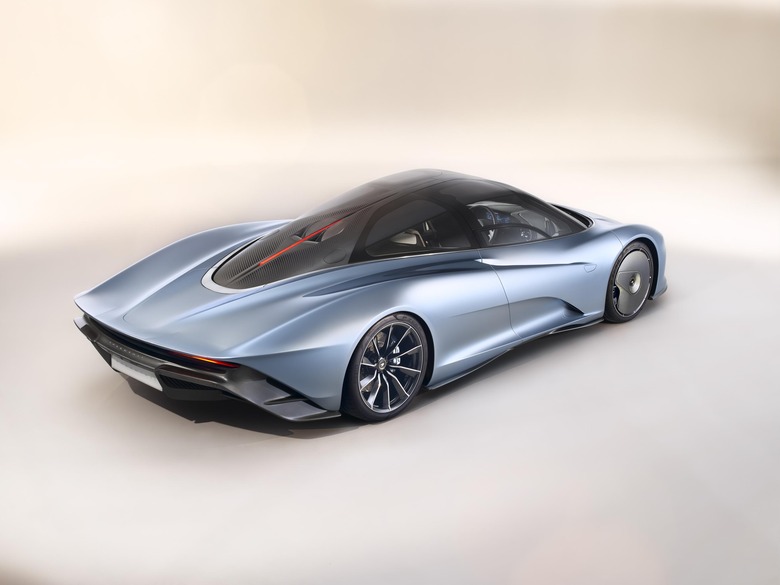 The fastest McLaren ever built, it edges ahead of the 243 mph F1 with its 250 mph top speed. 0-186 mph arrives in 12.8 seconds. In contrast, the P1 took 16.5 seconds to hit that number.
Like the P1 it's a hybrid, pairing a gas engine and electric motors for a total of 1,035 horsepower. The engine is mounted in a bespoke McLaren Monocage made from carbon fiber, with an all-carbon fiber body, aluminum active suspension, and carbon ceramic brakes.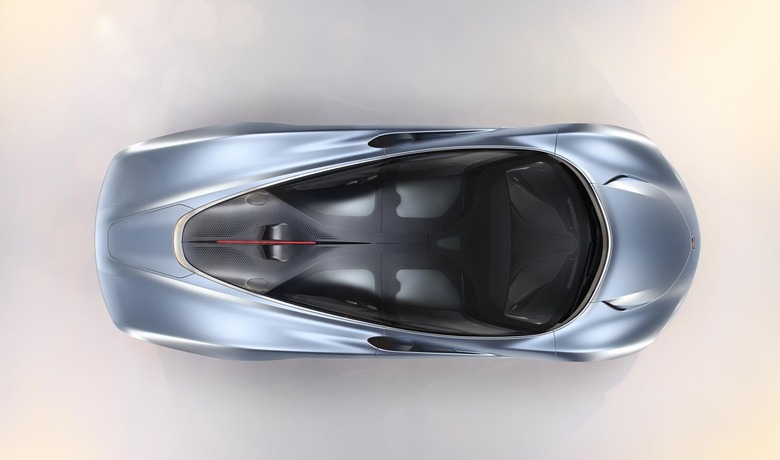 It's the carbon fiber – and the automaker's skills at engineering and manipulating it – which gives the Speedtail some of its most dramatic features and finishes. At 16.9 feet it's a long car; at the rear, McLaren's patented active rear ailerons physically deform the flexible carbon fiber. Two sections can adjust to change the center of pressure and adjust downforce as a result – or act as an airbrake when braking – with minimal panel gaps, shutlines, or leading edges of spoilers to get in the way of airflow.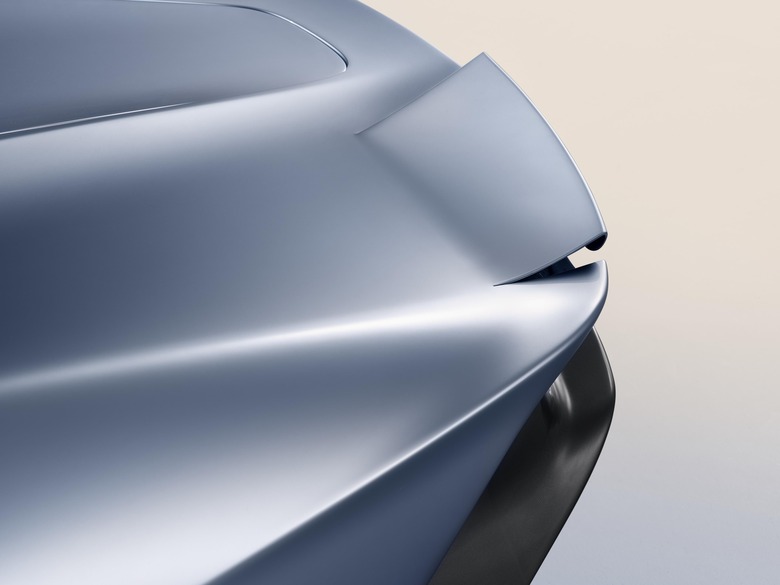 Indeed, making the car super-slippery has been a key focus. The side mirrors have been dropped, in favor of slender high-definition cameras that slide out when the car is started, and beam wide-angle views to twin displays on the dashboard. In maximum-speed "Velocity" mode they retract again, cutting an already minimized area of drag.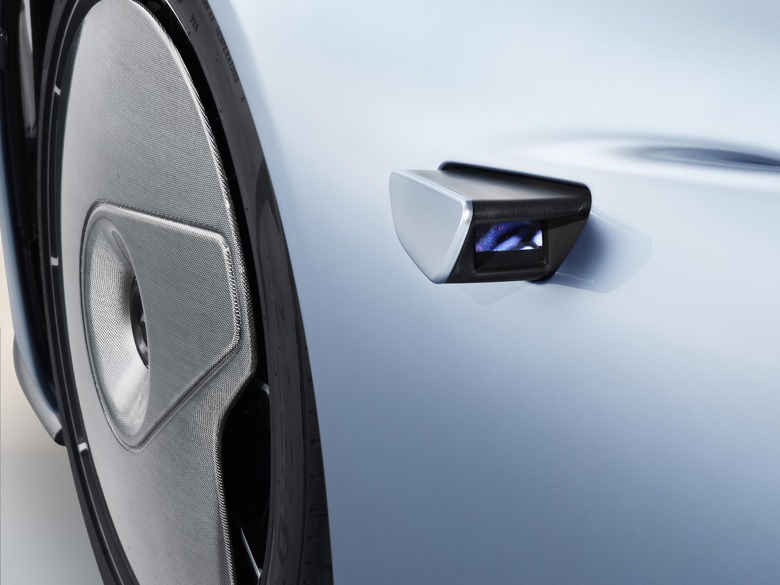 The teardrop-shaped body eschews panel gaps and cutlines, with McLaren making as many sections out of single pieces as it can. Vertical ducts beneath the LED headlamps avoid drag while pulling in air to the low-temperature radiators; much of the rest flows over the hood and into two upper front clam intakes, is ducted around the wheel arch, and then vented through the lower door vents. It means McLaren can cut the air flow around the sides of the car, and thus cut turbulence.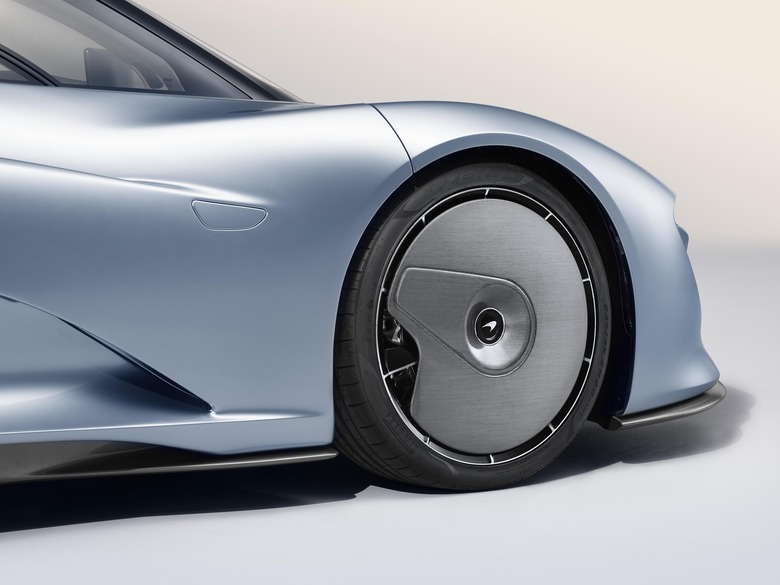 A low-profile snorkel intake for the gas engine is flush with the roof, while two down-sloping intakes just behind the glass canopy – itself a teardrop within the car's overall shape – also keep the hybrid well fed with air. Static aero covers for the 20-inch, 10-spoke forged alloy front wheels – finished in diamond-cut gloss black – stay in position while the wheels rotate, again minimizing turbulence and thus drag along the sides.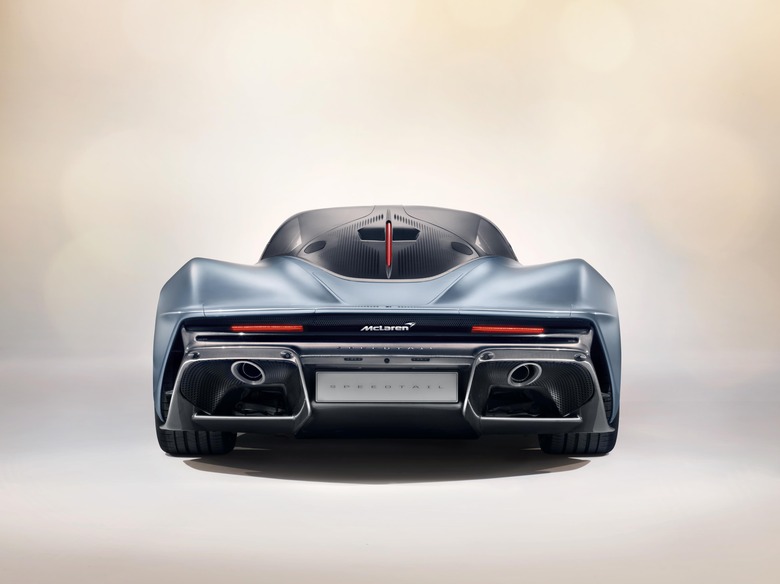 As for the rear diffuser, that blends airflow from the top and the flat underfloor of the Speedtail, as well as from the 21-inch rear wheels, reintroducing it to the freestream in a more progressive way to further improve efficiency. Each wheel is shod in custom Pirelli P-ZERO rubber.
McLaren's carbon fiber mastery continues inside, where the automaker worked with Swiss watchmaker Richard Mille on a car-industry-first with the material. Dubbed Thin-Ply Technology Carbon Fiber (TPT) it consists of a sandwich of ultra-thin, 30 micron cabin layers laid down at a 45-degree angle. That then gets milled to create a surface that looks like flowing water.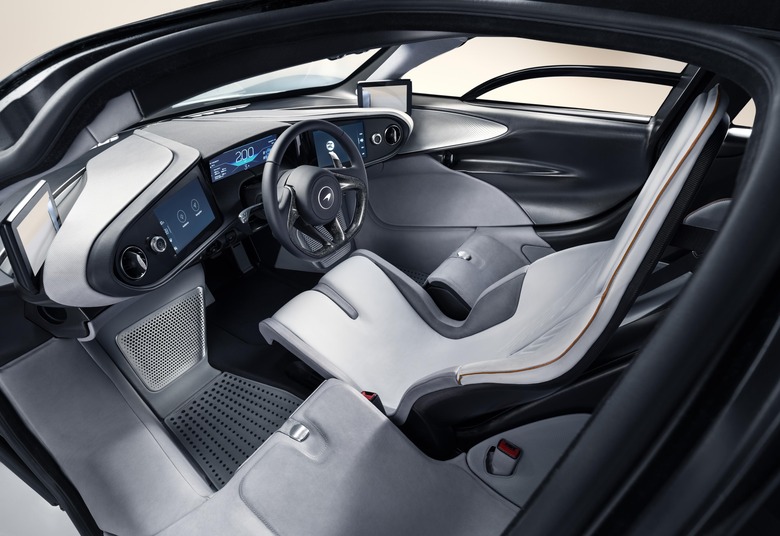 Even more dramatic is Titanium Deposition Carbon Fiber. Rather than use existing methods of tinting the material – which McLaren says can weaken it – the automaker came up with a way to add a micron-thick layer of titanium directly to the weave. That not only gives it a chrome-like shimmer, but since the titanium can be anodized into any color or pattern, can be used to heavily customize the interior.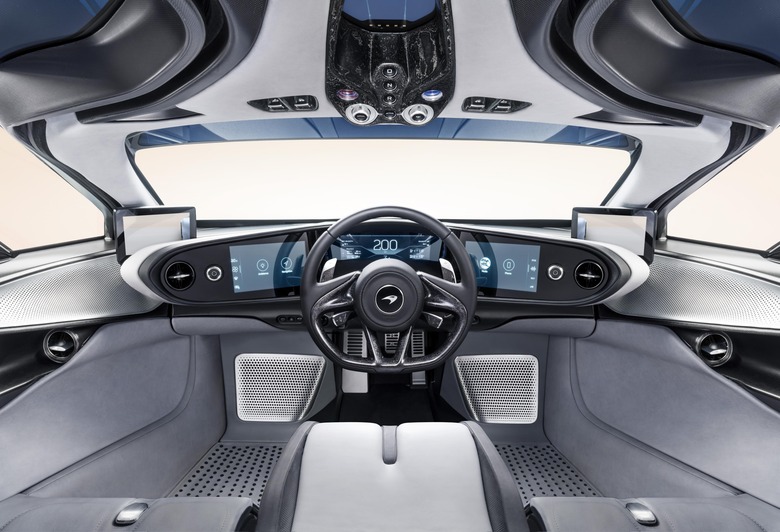 Like in a McLaren F1, the driver sits centrally in the Speedtail, flanked by two passengers set further back in the car. A custom-made carbon fiber seat is finished in "directional leather" which has been designed to allow you to slide into it more easily, but then hold you in place during more extreme maneuvering. You enter using new versions of McLaren's distinctive dihedral doors, now power-actuated.
The windshield curves up, blending into the roof and joining a glazed porthole above the driver, and the upper glazing of the doors. Rear quarter lights are glass, too, stretching back almost to the rear axle. They're finished in electrochroamatic glass, however, and so can be turned opaque at the touch of a button: McLaren also uses the same system for a darkened strip along the top of the windshield, removing the need for physical sun visors.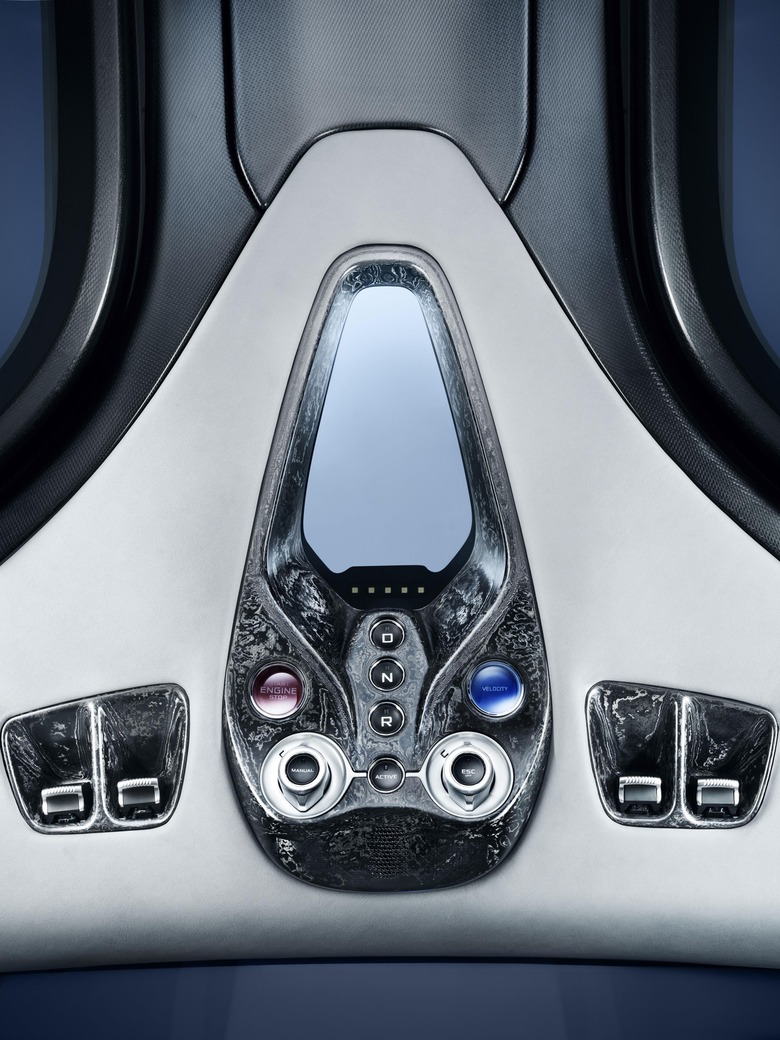 The controls for that – along with the doors and windows, plus to switch between the Active Dynamics drive modes, and enter Velocity mode – are mounted above the driver's head, a bank of hand-brushed and polished milled aluminum toggles and dials. Everything else is accessed via a span of high-def displays and touchscreens spread in front of the driver.
It may be a fast car, but the Speedtail isn't a spartan one. Leather is liberal in its application, McLaren using hide on just about every interior surface. It's even using a new, semi-aniline lightweight leather that uses air injection during manufacturing to cut weight by 30-percent while still remaining supple to the touch. McLaren applies it to the floor, too, treated to make it more tough, where it flows back to make the covers for the under-seat storage.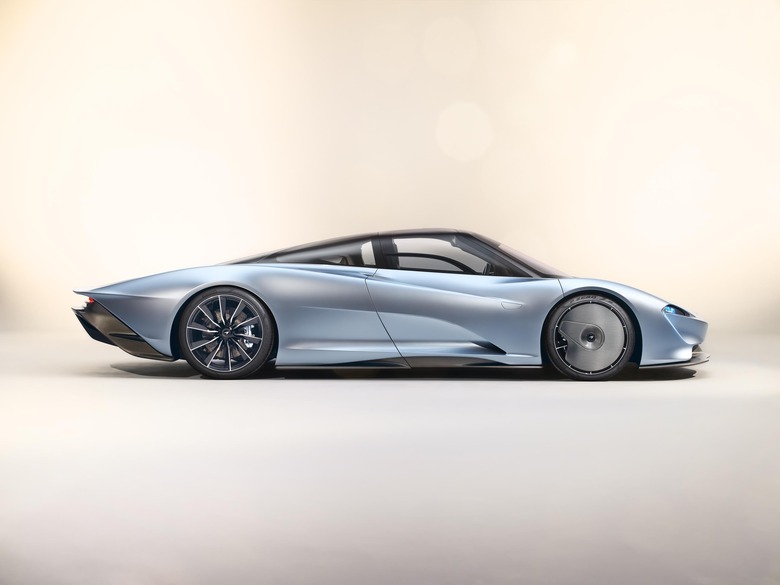 As you'd expect, buyers will be able to choose whichever hides, colors, stitching, and finishing they prefer, along with their choice of titanium anodizing. McLaren's MSO special operations division will be on hand for even more extreme customizations. The result, the automaker promises, will be "an unprecedented journey of vehicle personalization" for anybody lucky enough to undertake it.
That leads us neatly into the bad news. McLaren says it will only be making 106 Speedtails in total, each of which will be priced at £1.75m plus tax ($2.29m). All 106 cars have been reserved, and the automaker says it expects the first deliveries to begin in early 2020.