Mazda's 2016 MX-5 is cute, tiny & will sell like hotcakes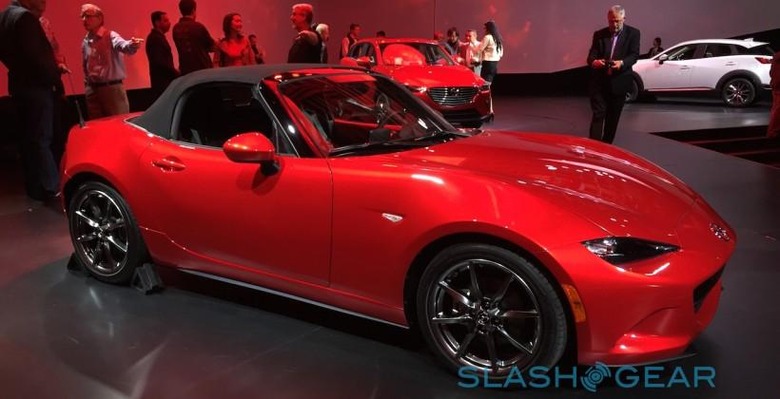 We already knew Mazda's 2016 MX-5 Miata was going to be a potent little titch of a car, but it's only when you get up close to the new droptop that you realize just how well Mazda has nailed the aesthetic. Distilling the compact proportions of the original Miata with a dose of slinky, snake-eyed modern style, the new car looks like it's shaping up to be a tiny Jaguar or Alfa-Romeo at a fraction of the price.
Revealed officially back in September, the MX-5 – known as Roadster in Japan – is Mazda's fourth generation of the iconic convertible.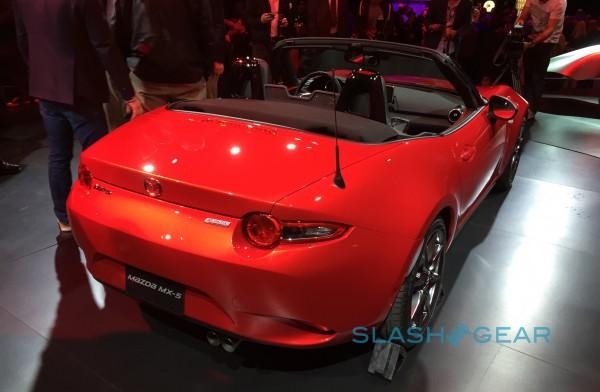 Over 100 kg has been shed from the outgoing model, while under the hood is a new SKYACTIV-G 2.0-liter engine. Mazda is promising specific power figures closer to launch, but with a curb weight expected to be tip the scales at around 1,000 kg, the expectation is something suitably spritely and fleet-footed.
In the metal, the biggest surprise is just how small the new MX-5 is. Mazda's official photos don't quite communicate the 154.1 inch length, 68.1 inch width, and mere 48.6 inch height.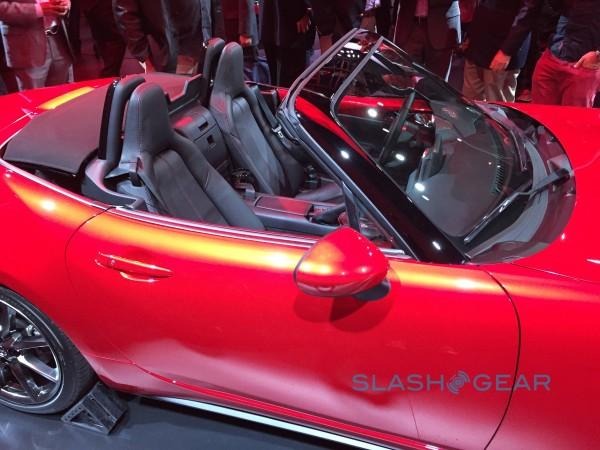 Even with the wheels pushed out to the corners, that leaves just a 91.1 inch wheelbase within which the cabin fits. It's a snug affair, but an ergonomic one, the stubby gearstick with its metal ball-top reminiscent of the models that came before it.
Mazda's infotainment systems have improved considerably in recent generations, and indeed the MX-5 has a big display atop its dashboard. Controlling it is the job of a large rotary dial in the center console, with shortcut buttons for music and other modes; there's also, thankfully, a dedicated volume dial.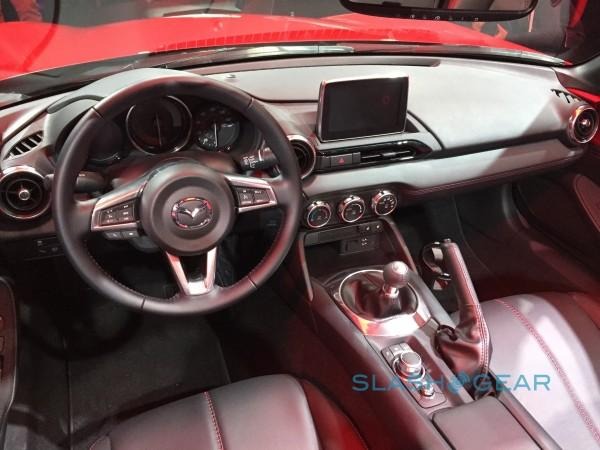 Otherwise, most of the remaining buttons are sprinkled across the wheel, with the main knobs on the center stack being for heating and ventilation. There's no sign of the head-up display for speed and other important metrics as on the Mazda 3 and other models, though of course there's still time for Mazda to add that in, perhaps as an option.
With pricing of the current MX-5 Miata kicking off at under $24k, it remains to be seen whether the 2016 car can keep with the tradition of affordable fun. In combination with the very fetching looks, that could well leave it the car to beat in its segment, and give rivals like Scion's FR-S the automotive equivalent of sleepless nights.