Maybach who? Bentley brings true opulence to LA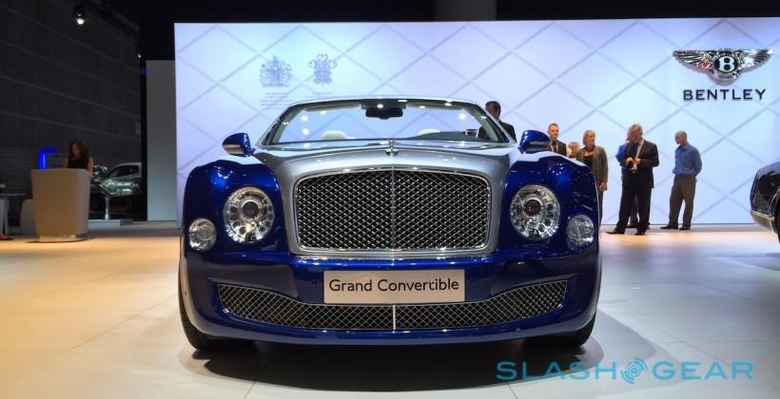 Dear Mercedes, Bentley would like to show you what real luxury looks like. The new Mercedes-Maybach may be stunning the LA Auto Show with its interpretation of a private jet for the highway, but just around the corner it was British stalwart Bentley which was demonstrating how opulence is done properly. The brand new Bentley Grand Convertible and recently announced Bentley Mulsanne Speed may espouse the old-school approach of "gentleman's club" luxe, but that's not to say they don't hide their fair share of technology in the process.
In the case of the Grand Convertible, it's Bentley's idea of what a grand tourer should look like. Billed as a concept – though one you get the impression would only take a few firm order requests to get it rolling through Bentley's factories – it's a huge and hugely capable drop-top, with a 6.75 liter twin-turbo V8 engine.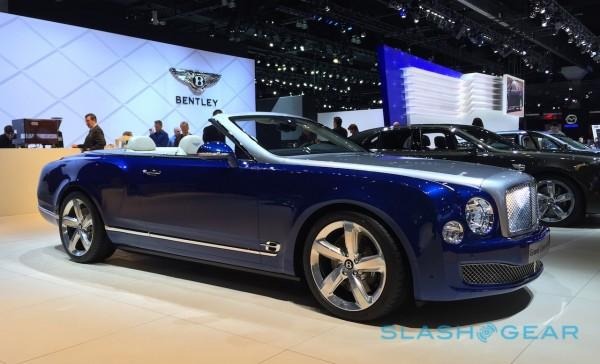 That's good for 530 HP and a faintly-ridiculous 811 lb-ft of torque. The car company isn't giving performance figures, but considering they're the same numbers from the same engine as in the Mulsanne Speed, and that car is rated for 0-60 mph in 4.8 seconds and a 190 mph top speed, I'd expect something similarly impressive from the Grand Convertible.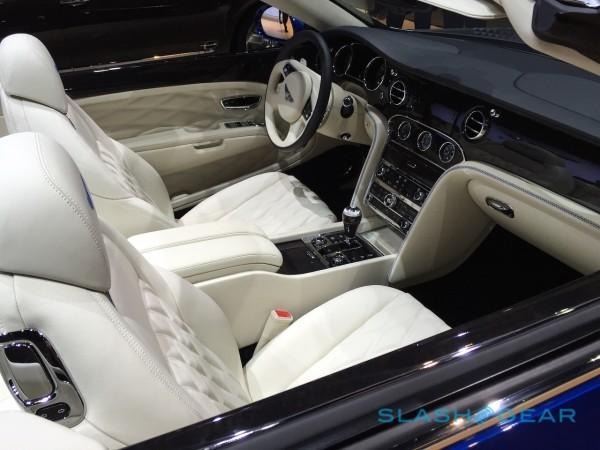 On the outside, sequin blue paint – created initially as a bespoke request, from a customer who wanted a car the same color as a sequin on her couture gown – is combined with a silver "liquid metal" hood and windshield frame.
Inside, fourteen leather hides donate their supple luxury to cover just about every surface that isn't otherwise trimmed with burr walnut and polished chrome. The tonneau cover, for instance, is the largest single piece of wood veneer Bentley has ever applied to a car.
Bentley Grand Convertible gallery:
While you can't – officially – buy a Grand Convertible yet, Bentley will be happy to sell you the Mulsanne Speed, its new flagship sedan. Taking the regular Mulsanne and upgrading the combustion system, reprograming the turbocharger and valve timing, and recalibrating the gearbox (including keeping the engine at 2,000 rpm or above when in Sport mode, so that the turbos are always ready to kick in), it also manages to be more economical when driven with a light foot.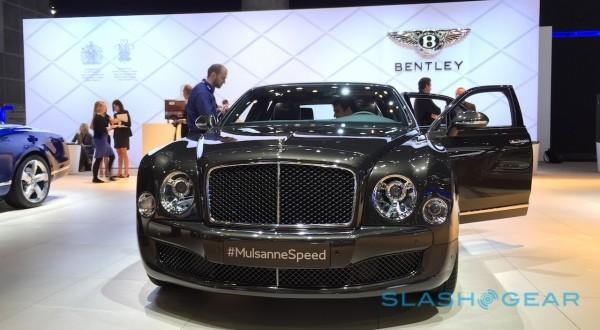 Outside, the grille gets a dark tint – classier, perhaps, than the blinged-up Mercedes-Maybach fascia – while the lamps front and back are also tinted. The 21-inch wheels are handed for each side of the car, and – whether painted, polished, or dark tint finishes – are each individually machined from solid forged blanks.
It's inside that Mulsanne Speed starts to show up the Maybach, though. Of course there's leather – a choice of 24 different hide colors, in fact, with diamond quilting on the door panels and seats – and aluminum for the gear lever, "organ stop" vent controls, and sports pedals.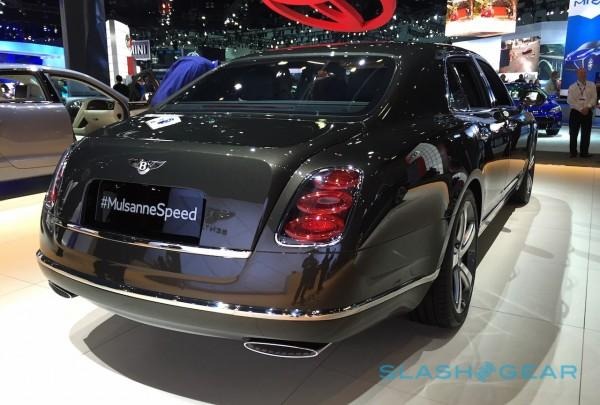 However, you also get a 60GB hard-drive for storing music and movies, along with integrated WiFi and a 2,200 watt Naim for Bentley audio system. Twin 8-inch screens are in the back and, while the Mercedes-Maybach has its airline-style aluminum tables that pull out of the armrest, the Mulsanne Speed one-ups it there, too.
In the Bentley, the rear tables are built into the seat backs, and elevate at the touch of a button. Open them up, and there's room for iPads and wireless keyboards, too.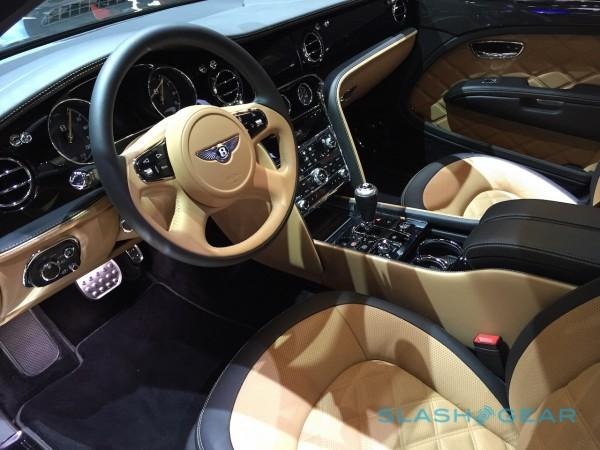 Even the silver-plated, handcrafted champagne flutes Mercedes will optionally outfit the new Maybach with are upstaged by Bentley's pair of bespoke crystal champagne flutes and frosted glass bottle cooler.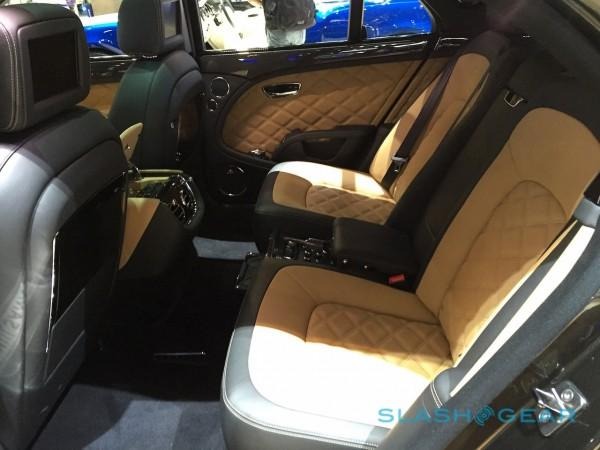 Starting in the region of $335,000 when it hits showrooms this winter, there's no denying the Mulsanne Speed carries something of a premium over the $200k+ Mercedes-Maybach. Still, if you have to work while you're driving, you may as well do it in proper luxury.
Bentley Mulsanne Speed gallery: