Google and Mattel have yanked the View-Master into the 21st century, taking the venerable 3D eyepiece and giving it a smartphone spin courtesy of the same tech as in Google Cardboard. Where the original View-Master used a clicking wheel of photos users peered through, taking a three-dimensional trip to foreign countries, wonders of the world, or outer space, the new model relies on a smartphone slotted into the front, and on which "experience reels" of photos and other content can be shown. Best of all, third-party developers and fans of Cardboard will be able to make their own 3D content, which Mattel plans to curate and distribute.
Cardboard was the surprise hit of Google I/O last year, a folding headset which – when a smartphone was fitted to the front, and the right app run – became a low-cost alternative to Oculus Rift. At the time, Google presented it as a casual side-project some of its staff had been working on, though many hoped it would go into production, as well as drawing parallels with the toy.
The View-Master connection is no accident; in fact, it turns out that the old Mattel toy – first shown all the way back in 1939 – was something of a favorite among many of those on the Cardboard team.
"Many of us on the Google Cardboard team grew up playing with View-Master," Mike Jazayeri, Product Director for Google's project said today, "so we were excited to collaborate with Mattel and to see the viewer evolve and work with Google Cardboard"
While the phone will be doing all the content delivery, there'll still be physical experience reels. They'll act more as triggers, however: not slotted into the View-Master, but placed in front of it and then firing up a particular experience download accordingly.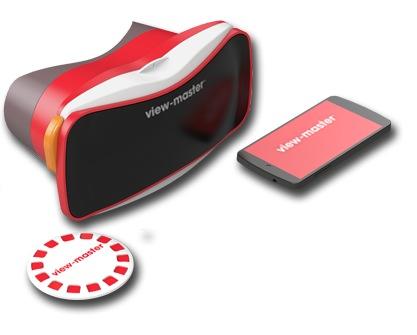 Initial content has not been settled on, but Mattel says it will include both classic and modern media. So, on the sample reel for instance, there'll be a gallery of classic View-Master images, but also a space tour with a trip aboard the shuttle, and "a unique destination" in a 360 degree viewing environment.
You'll need a smartphone of course to enjoy it, and right now Mattel and Google aren't saying which will be supported: that's more likely a case of physical size than a specifications limit. It won't be limited to Android, either, with an iPhone app in the works, too.
The new View-Master is expected to hit shelves this fall, complete with a sample experience reel, priced at $29.99. Obviously you'll need to budget for a phone on top of that, too.
Further experience reel packs will be priced at $14.99, each with four themed reels inside, and with each reel containing multiple areas for exploration.
SOURCE View-Master