Mattel Hover Board prepped for 2012 holiday release

Before you have a heart attack over the undeniable excellence that would be a real live hovering Hover Board from Back to the Future: Part II, note that this one doesn't QUITE float yet. Instead we get an assurance that this Hover Board does not work on water and that the price for this 1:1 replica will indeed be produced by Mattel and will be released in a "minimum orders required" fashion. This means that because the creation of this item is so costly to Mattel, they're requiring that a minimum number of pre-orders be placed before they go into production.
This Hover Board, for those of you unaware, first appeared in the science fiction comedy action movie Back to the Future: Part II with Michael J Fox and Christopher Lloyd. In that movie it was a push-scooter-like toy which, once the character Marty McFly popped the bar off, became the greatest hovering skateboard in this history of future visions. This release will "glide" over most surfaces, and will be "movie accurate" but will not float over the ground like the film quite yet — Mattel has noted that it's not quite 2015 yet, of course. Mattel's press release reads like this:
Back to the Future Hover Board: Finally! This totally awesome 1:1 replica of the hover board from the BTTF 2 and BTTF 3 films includes multiple whooshing sounds and will glide over most surfaces (does not actually "hover" – check back in 2015 for that feature). We'll be taking orders for it March 1 – March 20, 2012, and the final product will be shipped around November/December 2012. Because this is such a high-cost item, there will be a minimum number of orders required to go into production. If we don't receive the minimum orders, won't go into production and customers will not be charged. The price will be announced later this month. (Note: Hover board does not work on water.)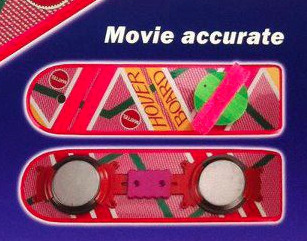 There are a couple of images released for this beast already, both showing off the spot where the front handle was ripped out by Marty in the movie – so we're looking at quat might be the closest thing to the real deal thus far. You can see a poster from Toy Fair 2012 photographed by ToyArk in the gallery below with a small image of the bottom of the board as well as several slightly larger images of the board from MattyCollector who seem to be the only group on earth with a close-up view of the board thus far. Here's hoping for more action soon!