Marvell Moby MED multi-display medical tablet outlined [Updated]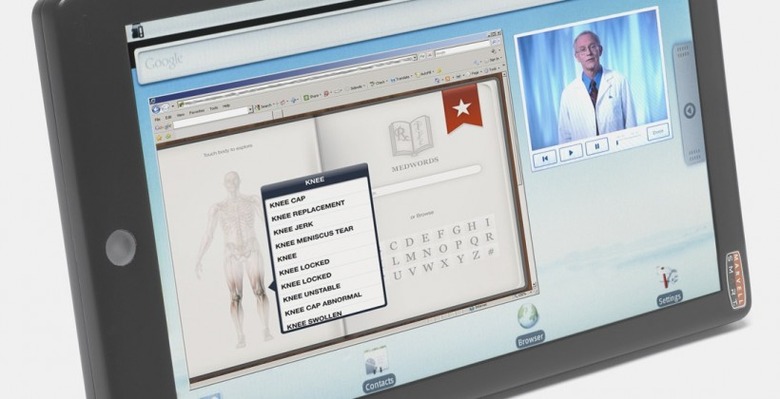 Marvell have already shown us one new Android tablet reference design, the Marvell Moby, but the company have a second concept, the Moby MED which sounds a whole lot more interesting.  Targeted at "telehealth" use, Marvell envisage the Moby MED as having "multiple simultaneous" LCD or e-paper displays, together with 1080p Full HD encode and decode, WiFi and Bluetooth connectivity, and an integrated camera for web conferencing and remote diagnosis.Updated with official Marvell Moby MED image.
The Moby MED would be based on a Marvell 600 Series chipset, such as the ARMADA 618 we saw demonstrated at MWC 2010 a few months back.  The company were showing two potential setups, one simultaneously driving a PMP display and an HDMI connected 1080p HDTV, and the other having two LCD panels running independently.  Potential OSes include Windows Mobile and Android, complete with Flash support.
It's unclear whether the Moby MED would have more than one display built-in, or if Marvell intend it to connect – either wired or wirelessly – to individual displays throughout, say, a hospital or clinic.  Unfortunately there's no imagery of the reference design, nor a price; we're guessing it'll be higher than the roughly $99 tag suggested for the Moby.
[via Linux for Devices]
Press Release:
Marvell Drives 'Telehealth' Revolution with Moby MED — Always-On Medical Tablet

Healthcare-focused Tablets With Multiple Simultaneous Viewing Screens Including Video Conferencing and Live TV Allow Consumers to Manage Medical Records, Conduct Live Physician Consultations, View 3D Images and Sonograms, Collect Real-Time Data From Personal Monitoring Devices, Access Information From Online Sources, and More

Santa Clara (Apr 21, 2010) Marvell (Nasdaq: MRVL) a worldwide leader in integrated silicon solutions, today announced a bold new healthcare initiative to drive high performance mobile tablets based on its leading silicon solutions. Marvell's Moby MED initiative promises to give consumers much greater command over their own healthcare and proactive wellness information and decisions. The Moby MED tablet platform is an always-on, high performance multimedia reference design featuring live, real-time content, 1080p full-HD, 3D capabilities, and full Flash Internet. Marvell's Moby MED tablet platform is designed to allow physicians to consult with patients remotely in real-time, allow consumers to manage their own health histories in a highly-secure, encrypted environment, make it possible to send and read high-resolution diagnostic imagery, and give consumers access to online medical information in a light-weight, long-running device.

(Logo: http://www.newscom.com/cgi-bin/prnh/20070411/SFW034LOGO)

"Passage of the National Healthcare Reform bill was only the beginning. We as individuals now must take much more responsibility for our healthcare and wellness decisions — including connecting with personal physicians and proactively managing our private health histories. I believe the Marvell Moby MED tablet platform will empower patients to take proactive control of their healthcare, and will enable doctors to save more lives," said Weili Dai, Marvell's Co-founder and Vice President and General Manager of Marvell Semiconductor's Consumer and Computing Business Unit. "I believe the Moby MED solution could ignite a telehealth revolution in America. The Moby MED tablet platform features a built–in camera for live video conferencing and multiple simultaneous viewing screens allowing patients — no matter where they are in the world — to have real-time consultation with a physician while examining an x-ray image, referencing an online medical encyclopedia and order a prescription from a nearby pharmacy. The Moby MED tablet platform provides everything needed in a mobile medical tablet – from keeping track of blood pressure rates, glucose levels and other vital data to serving as a virtual medical station in remote parts of the world. With the Moby MED, doctors could once again make house calls—without leaving the office—and provide a much higher, more personalized quality of care."

Marvell's Moby MED tablet platform will also help deliver on a US "telehealth" strategy as recently defined in the Federal Communications Commission's national broadband plan. The FCC's national broadband strategy contains a 25-page chapter on telehealth, and calls upon the Department of Health and Human Services to make "e-care" projects a top priority. As part of the plan, clinics, hospitals and doctors' offices will be encouraged to put health records into a secure database that can be remotely accessed by patients and their authorized care givers. In addition to saving lives, video consultation and other telehealth techniques can save money by giving facilities remote access to world-class specialists.

National adoption of electronic health records systems accessible from devices powered by the Moby MED tablet platform can save more lives by alerting physicians and patients of dangerous drug allergies and drug interactions when prescriptions are written. According to one study cited by the FCC report, these alerts alone could result in a net savings of as much as $371 billion for hospitals and $142 billion for physicians over the next 15 years.

Launch of the Moby MED tablet platform comes just weeks after Marvell announced its breakthrough reference design for a $99 Moby tablet (read more) aimed at powering affordable mobile tablets for the world's two billion students. The high performance, low cost reference design concept has rapidly captured worldwide interest from publishers, educators and governments looking to replace today's outdated and expensive printed textbooks.

About the Marvell Moby MED Tablet Platform

Specifically designed for healthcare, the Marvell Moby MED tablet platform drives development of high-performance low-power medical tablets with a built–in camera for live video conferencing and multiple simultaneous liquid crystal display (LCD) or electronic paper display (EPD) viewing screens for convenient viewing of information.

Powered by a high-performance, highly scalable, and low-power Marvell® ARMADA™ 600 series of application processors, the Moby MED tablet platform features gigahertz processor speed, 1080p full-HD encode and decode, intelligent power management, power-efficient Wi-Fi/Bluetooth/FM/GPS connectivity, 3D graphics capability and support for multiple software standards including full Adobe Flash, Android™ and Windows Mobile.

Optional platform features include Marvell's leading storage and wireless solutions such as embedded MMC, which is a handheld device optimized SSD-type technology, and Marvell Mobile Hotspot which allows Wi-Fi access that supports up to eight concurrent users connected to the Internet via a cellular broadband connection.